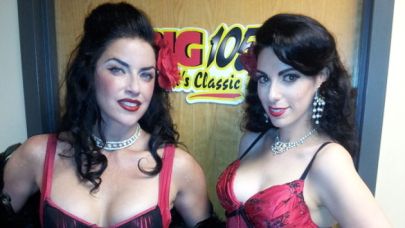 Nothing goes better with gambling than a few beautiful dames. When said dames are up on stage and delighting the crowd, the go with is even better. Add a funny man, some throwback sexy, and the better compounds exponentially. That's why the smart crowd will be catching Coco's Burlesque Show at the Seminole Coconut Creek Casino tonight -- end every night, for the next few weeks. Bet on it, baby.
What the blazing heavens is Coco's Burlesque Show? The newest sensation to seduce South Florida, Coco's Burlesque Show features glamorous girls taking the stage for a night filled with theatrical entertainment, including vaudeville comedy, decadent burlesque dancing, incredible feats of dexterity and much more. The show builds intrigue by teasing its audience with bits and pieces that peel off one layer at a time as the night goes on.
This updated, stylish tribute to 1940s-era burlesque features a talented cast of sensational dancers, a hilarious master of ceremonies, slapstick comedians as well as a variety of other top-notch acts. Highly entertaining and fast paced, the Coco's Burlesque Show spectacle dazzles with plenty of sparkle, rhinestones, tassels and props for more than an hour.
From start to finish guests will revel in the sensual and sophisticated production with a style, look and feel that brings back the enjoyable mix of comedy and classic American burlesque of the 1940s. The artfully choreographed set of performances evokes passion that overflows throughout the audience.
Now that we got the press release outta the way, is there indeed an actual Coco? Coco is our new $150 million dollar expanded swanky new casino.
Who all is in on the action (and what do they do)? Peter Fogel, hilarious comedian with plenty of television credits to his name. Direct from New Orleans, Trixie Minx. And the sexy Nicole Soden and Miss Aurora Natrix.
What's your role in all this? I am the Promotions Manager of the casino with a heavy background in entertainment and am familiar with the show producer, Allen Valentine… who's got 40 shows under his belt.
How'd you land such a plum assignment? Luck
Being privy to the magic, what would you say to sway folks who may be interested in coming up to the Coconut Creek Casino? Where else can you get top flight entertainment, spectacular restaurants including the NYY Steak straight from the legendary stadium and the chance to play for millions? Come find the FUN YOU at the all new Seminole Casino Coconut Creek. See you there!
Coco's Burlesque Show opens Friday August 31 and runs through September 21 at the Seminole Coconut Creek Casino. For tickets log on here.