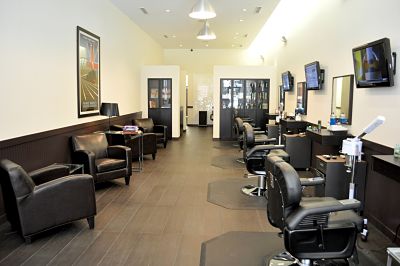 Face it, fellas. We live a fast life. We rush to and fro, back and forth, over and under and through. Then we do it all over again. Sometimes the rat-a-tat-tat of all that can get a cat frazzled. When that happens, it's time to sit back, relax and cool your engines. Take time to indulge yourself. Which is why the smart money men gather at Sloane Square, where a shave and a haircut can be a truly transforming experience. On Thursday night, "the modern gentleman's sanctuary" is opening its second outpost, so Niteside decided to ask owner Todd Goldenfarb to fill us in.

What's the big idea behind Sloane Square? Sloane Square is what I call a luxury barbershop. It's a place for men to be pampered. Whether it's a haircut, hot lather shave, mini facial, or manicure, Sloane Square provides a place where men can be groomed at an affordable price in a really great atmosphere.

When (and where) did the first shop open? The first store opened approximately one year ago in South Beach.

How'd that come about? It was really one of those things that came out of nowhere. I used to get my haircut at Carr's Barbers in South Beach. I really liked the place, but thought it could always be better. When I found out the owner wanted to sell, I thought it was a great opportunity to re-brand it and upgrade the services, products, and atmosphere. So I bought it with a good friend of mine, and so far so good (knock on wood).

Now you're opening a second outpost, wanna tell us about it? When we opened Sloane Square on South Beach, it was always in the plan to make our operation scalable. We decided that the model we had was working and started to look for a second location. A lot of people thought Coral Gables was a natural fit for the brand and thus I found the right location and a few months later we were open! It wasn't quite that easy, but that was the basic process.

We built from scratch a 1200 square foot store with a sleek, yet refined look. The location offers the same services as South Beach as well as our membership packages which are a very popular. Essentially, a member pays one fixed price per month and they can enjoy as many haircuts, shaves, or both as they like. And of course, all services come with complimentary beverages!

What's on tap for Thursday night's festivities? Thursday is our chance to really show off what Sloane Square is all about! We have Coral Gables Mayor Jim Cason doing a ribbon-cutting, which will be great, Grey Goose, Shipyard Brewery and Vita Coco providing the drinks, Devine Delicacies will have some great desserts to sample, and much more!

If you had to sum up Sloane Square in a single sentence, what would it be? Men deserve to be pampered too, and there is no better spot for that than Sloane Square!

Sloane Square Grand Opening Thursday September 22 6-9pm 2518 Ponce de Leon Boulevard Coral Gables. For more information call (305) 640-8775 or log on here.