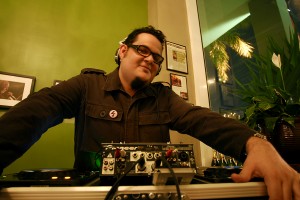 If you've hit The Awarehouse or "!Mira Que Lindas!" (literally, "Look How Pretty!"), you know that it's chock-a-bloc with the best and the brightest Latin music ever to be heard, both visually and aurally. If you haven't yet had the pleasure, well, Saturday night you'll get another good chance, because in addition to the expansive exhibit, Spain's own Fangoria will be taking the stage. Just as important though will be the before-and-after sets by our own DJ Mr. Pauer. Pauer, resident at both La Covacha and Café Barcelona, and a guest everywhere there are decks, is the kind of internationalist spinner that gives Miami its worldly-wise appeal. So expect to be wowed right outta your mind.
Okay, I've gotta ask: What's up with the name? Well, the word "Pauer" is how you would write "power" in spanish in order to sound right in English. I got inspired by the "Aprenda Ingles hablando en Español" That's the world I live in, sometimes in Spanish, sometimes in English.

You're known as Miami's own internationalist DJ. Can you please tell folks a bit about the range of sounds you spin? I love music and pretty much all music styles. Mr. Pauer's favorite is a combination of world sounds, emerging sounds from the indie scene anywhere in the world, and most important, music that will make you dance. I've been exploring the electroc sounds of Cumbia lately and the House beats from around the world.

You and your partner photographer Claudia Calle co-host a Saturday night party at La Covacha. What's that all about? La Covacha is an iconic venue for Latin music. For the past seven years I've been a resident DJ there and have lived many music changes since playing reggaeton beats when it was indie, bringing back the funky salsa from the 70's, the Latin alternative sound when it was known as "Rock en Español" and so on. We see the evolving music and sound in general. La Covacha is like home.

Fabrika wasn't just a party name though; it's linked to a kind-off "Music + Lifestyle Website." Can you please explain? Fabrikalink.com is a website that has been around for more than nine years now. It all started as a party and evolved into a music media informing about new music releases, news and the Fabrika Weekly Planner that we send every Monday. Our main focus is MIAMI. We believe in this city, its scene, music, art, etc. We work hard to give Miami a more artistic and out of the ordinary option on a daily basis. People can contribute adding their events to it at no cost. This is a community.

In addition to La Covacha, you're also resident DJ at Miami Beach's Café Barcelona. What's that scene like? Cafe Barcelona is a place that has its magic. The people, the food and the vibe are just amazing. This is a neighborhood bar where Miami Beach does not feel as a tourist place with palms, congas or house music and glow sticks. The music is a combination of 80's, 90's, House, Latin Alternative and World music. I've been a resident DJ there for almost 2 years on Thursdays and Fridays.

Tomorrow night you'll be spinning a party at The Awarehouse for the "!Mira Que Lindas!" exhibition. Details please. This is one of the coolest events I've seen in Miami in 17yrs that I've been here. "¡Mira Que Lindas!" is a project that Centro Cultural Español, Fabrikalink.com, Awarehosue, and The Latin Recording Academy® have partner to offer art, music and education. This is an exhibition of more than 500 album covers curated by Zona De Obras. Thursdays are dedicated to free music + design workshops presented by The Latin Recording Academy® and every Saturday with live music with artists such as Aleks Syntek, Pacha Massive, Nortec Collective, Yamandu Costa, Perrozompopo and this Saturday June 12th as a Wynwood Art walk special will be the iconic electropo duo from Spain, Fangoria. This is their first time in Miami. I will also spin a selection of World dance beats that night.

You'll also be spinning Gusman Center's "Flickin' Summer" series. Can you tell us a bit about that? This is a series that started last year with a great idea of bringing great 80's classic movies to the big screen again. It's combined with an 80's theme setup party in the middle of the stage where I get to spin the music that I grew up with. For dates you can visit the Gusman Center website, but it'lt will be from July to August.

Word is you're not just a hotshot DJ; you're also a producer. Who are some of the acts you've worked with? Actually, I'm a musician before being a DJ. I'm the drummer of Miami's Latin Alternative band Soniko. As I producer I have done remixes for bands like Locos Por Juana, Humberto Pernett, Chana, Elastic Bond and lots of bootlegs! I'm in the process of releasing my EP sometime before the end of summer.

When you're not on the decks or in the studio, where in town do you most dig hanging out? This is a hard question because I'm usually working during the weekends when most people go out. My weekend starts on Monday. Some of my favorite spots in the city will be Sushi Siam, Cafeina, Yiya's Bakery and pretty much anywhere where I can meet with friends and spend time with Claudia.

What else is coming up for Mr. Pauer? I will be heading to NYC on July for the Latin Alternative Music Conference where I usually play, I'm also planning a national tour to take the Pauer to cities like LA, Puerto Rico, Chicago, Austin and more. One of my passions is to travel, so, anytime I get to do that, I'll jump on a plane to meet the world!