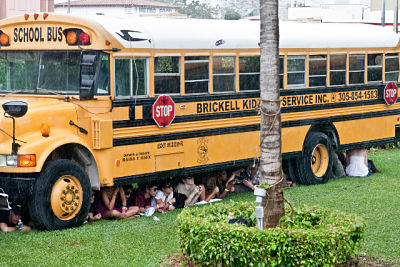 They may have outgrown their Degenerate status, but there's no question that the folks behind the annual bacchanal known as Sunday School are gonna keep our minds beautifully corrupt -- and plugged in. Then again when you're talkin' 36 hours of pure unadulterated beats, things really couldn't swing any other way. Niteside got with Made Events man Mike Bindra, who co-heads the throwdown with Laura de Palma. Here's how he spelled it out.

Would you please tell us a bit about this year's Sunday School? This year will be the 6th edition of Sunday School and it's been expanded to 36 hours (March 25-27) at the gargantuan Ice Palace. Over the years it has evolved into a mini-techno festival, and this year we have over 50 artists performing, across three separate stages. We kick it off Friday night with Richie Hawtin and the entire Minus label crew and Boysnoize Records gang. After a Saturday daytime recess, we reconvene on Saturday night for the final 24 hours with Victor Calderone and Luciano's entire Cadenza Vagabundos crew, plus top techno talent closing it out on Sunday all day with a bunch of exclusive and live acts, including the Miami premiere of Nicolas Jaar's live band and very cool live performances from Frivolous, Guy Gerber, John Roberts, No Regular Play, Stimming and Wareika.

Wow! How'd you get hooked up with The Minus Crew? We've worked with Rich [Hawtin] for many years in NYC. Going back to the late '90s when I used to book him at Twilo in NYC.

What about the Boysnoize Records gang? We've gotten to know the Boysnoize gang from booking Boysnoize and Tiga for the Electric Zoo festival. We're excited to produce this showcase for them and their stable of talented artists.

Any last minute surprises you wanna clue us in on? We do have a surprise guest for the Boysnoize Records party, but you'll have to come and see for yourself. In addition, the best surprises will come from the live acts: saxophone, drums, guitar, piano and a robotic xylophone!

You mentioned that Made is also behind New York's mammoth Electric Zoo - which came first and how to they differ? Sunday School in Miami came first and then we incorporated the concept into the Electric Zoo festival as a showcase for techno. It works extremely well within the framework of the festival programming as a way to introduce new artists and new sounds, as well as celebrating techno.

When's the next Zoo fest anyway? We've expanded the Electric Zoo festival to three days this year to be held on September 2, 3, 4 over the Labor Day holiday weekend. We're keeping the headliners under wraps for now but look for an announcement very soon on the website.

Any other Made action we need to know about? On Thursday, March 24th we have the annual Anjunabeats in Miami showcase with Above & Beyond at Ice Palace. The heavy hitter line-up includes Cosmic Gate, Kyau & Albert, Super8 & Tab, John Dahlback, Jaytech, Jody Wisternoff, as well as a reunited Gabriel & Dresden.

Before we go-go, if you had to sum up this year's Sunday School in a single sentence, what would it be? Sunday School = The annual global gathering of techno tourists in Miami!

Sometimes it's okay to be a follower! Catch us on Twitter @nitesidemia.