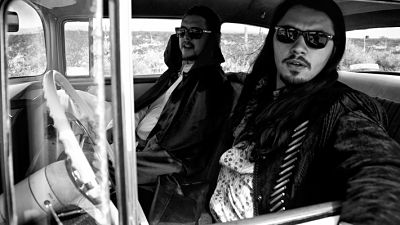 If you haven't yet caught Ghostland Observatory on some stage or another, it isn't the band's fault, especially since the Austin-based, electro-charged two-piece has pretty much been on the road since they're '05 founding. Then again, despite a hefty handful of albums (including the most recent Codename: Rondo), Ghostland is really designed to be experienced live, where all the frenetic fun can be enjoyed in great good company. Niteside quizzed drummer/synthesist Thomas Ross Turner in advance of Sunday's lighting up of Culture Room.

You and Aaron [Behrens] seem to have been on the road almost every day since Ghostland formed, can you give us an overall highlight or two? We have been on tour for a while now. ACL Fest [Austin City Limits] was pretty insane. It was One of the largest crowds we have played in front of. All of the shows are great though big and small. We love putting on a show!

How about from the Summer or 2011, any particular standouts? Salt Lake City was crazy. There were probably 30 or 40,000 people in attendance. We do a show each year right outside of Austin called Whitewater. The stage backs up to a river and people camp and tube all weekend. That was a lot of fun as well.

Speaking of highlights, word is you're on the Moogfest bill, that's gotta be some kinda something else, no? It is Very exciting. We were so pumped when they invited us.

Will this be your first Moogfest appearance? Yep, this will be our first Moogfest performance.

Before Ghostland goes to Asheville though, you're coming back to South Florida. Will this be your first Culture Room showing? We played there last year, so this will be our second Culture Room experience.

Earlier this year Ghostland also played Ultra -- how'd that come off? It was very cool. It's exciting to see America is finally embracing electronic music. Some of the electronic festivals are out selling the large rock-based festivals.

When Codename: Rondo racked, Ghostland unveiled an even bigger and brighter light show. Can fans expect all that and more at Culture Room? Yes! We are bringing the lasers.

Anything else we need to know about Ghostland before we go? Get ready to sweat.

Ghostland Observatory plays Sunday, October 9 at Culture Room. For more information log on here.