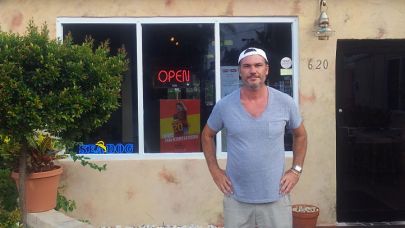 Miami has no shortage of waterfront drink and dine joints. Unfortunately too few of such places combine the mix of comfort and affordability a neighborhood can come to really welcome. That makes RiverShack an exception to the rule. Located just off Biscayne in a nook all its own and graced with the history of the 'hood, River Shack has quickly become a sorta all-purpose hang for those who live and work in The Corridor. Co-owner (and DJ) Gigi Meoli, who counts everywhere from Anise Taverna to The Delano in his history, gives NIteside the lowdown.

What's the big idea behind River Shack? Low key, comfort food. Grab a burger; catch a game; kick back, relax. Call it a neighborhood hangout.

Who all is behind the joint? There's Executive Chef David Long and Sous Chef Alan Harst, both of whom came from Wynwood Kitchen and Bar, and then there's me, Gigi Meoli.

Care to name some of River Shack signature dishes? Shrimp and Grits, which is anything but your typical shrimp and grits; the Shack Burger, which has already become a hit; and the 3 Cheese and Mac, which comes with tomato and Ritz crumbles. As David says, "it's ridiculous!" And every single table seems to order at least one serving of that dish.

What goes down in addition to the drink and dine? Every Friday night we bring in DJs and different guest vocalists. Chilly is the main resident, and he's generally joined by DJ Chris. This week we've also got Ben Delsol and DJ Soul Harmony coming in to spin what they call "sounds of the oceans deep".

Are you stepping in to spin as well? Oh yeah. My getting back on the turntables was one of the main reasons we put in the booth; that and the fact that we all believed DJs such as Chilly would make a great addition to what River Shack has to offer everyone.

Any other special extras we should know about? We're showing the Euro Cup throughout its whole run, and that's making lunch even more fun. We've also got a daily Happy Hour, from 5pm-7pm. Half off beer, $3 sangria, $5 wines and 2-for-1 on all snacks.

River Shack is located at 620 NE 78th St Miami. For more information call 305-758-2929 or log on here.