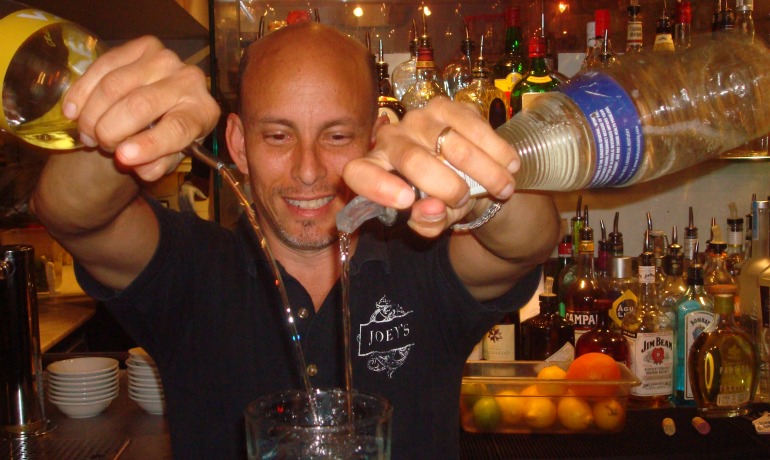 He may have been born in Bari (Italy, natch), and he may have been raised in Caracas (Venezuela, of course), but it's over his 14 years in Miami where he really came of age. His name is Guiseppe Sisco, aka "The Sisco Kid", and he's been on the stick at Joey's Wynwood since day one. Niteside got with Mr. Nice Guy and asked him to share a few good words.

Exactly how long have you been at Joey's? Since December 1, 2008. I'm one of four of the originals -- the others are co-owner/head chef Ivo Masson, sous chef Diego Flores, and assistant manager (and artist) Yuri Tuma.

What's your take on the place? It's very attractive, and it appeals to everyone who's looking to experience a delicious new concept in Italian food. I'm absolutely thrilled to be working here.

How 'bout the neighborhood? It was really nice to be in the ground floor of a new scene, especially one as vibrant as Wynwood. When we opened there was not a lot going on aside from the galleries; since then of course there's been a boom of openings, among them our sister, Wynwood Kitchen and Bar, and The Wynwood Walls which join us together.

What are the most popular drinks? I'd say the top three cocktails are the Juanito [Ciroc Vodka, Mango Puree, Cranberry Juice and Malibu Rum topped with Chambord], the Agave [Don Julio Blanco Tequila, Agave Nectar, Passion Fruit and Aperol], and the Cactus [Jalapeno Tequila, Orange Juice, Mango Puree and Tabasco Sauce]. Peroni's also popular, either on tap or by the bottle. And of course there's our wine list, which is quite extensive.

Where else in Miami have you worked? I actually started out training bartenders; then I ran a seminar called "The Upset Guest" for both Michael Dezer and Donald Trump properties. Now, in addition to Joey's, I operate a company called Weddings and Events Concepts.

What's WEC all about? We handle private affairs from 150-500, at various venues around town, from Viscaya and the Miami Science Museum to Deering Estate, the Spanish Monastery and Venetian Pool, and our clients have included Ford, Chase, Citibank and Susan G . Komen Foundation.

Any last words about Joey's before you go? If you haven't been here yet, you don't know what you're missing. Just ask everyone who's been -- and who keeps coming back!

Joey's is located at 2506 NW 2nd Avenue Wynwood. For more information call (305) 438-0488 or log on here.