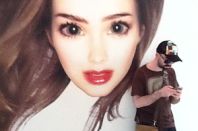 Charity might begin at home, but when that home is the dance floor it begins with a beat. Case in point: the newly-birthed Handsome Beats Brigade, which is bound to bring benevolence to this whole new generation. Founded by Venezuelan transplant Ronald Miguelerena to fuse the feat with the heart, HBB is kicking off its coming this Saturday afternoon at the North Beach Bandshell. The party is called Heartbeats and it benefits East Africa. Finally we can dance away the day without taking a walk of shame.

Wanna tell us a quick bit about Handsome Beats Brigade? Handsome Beats Brigade is an avant-garde music and multimedia artist collective that's plugged into an exemplary humanitarian initiative.

Who else besides yourself is behind the organization? University of Miami alum Mirasol Perez (who'll be serving as Vice-President), as well as Tony Ringor and Annjanette Isorda of The Arealab.

Wanna fill us in on Saturday's launch party? Sure. It's called Heartbeats, and it'll take place at the North Beach Bandshell. The afternoon will start with an eclectic set by Kremadelik followed by the raggatronic trend setter Niki Em; then the dark organicArma will take over building up the energy for the heavy Transoverload.

How did you end up aligning with the dance and electronic music community? By partying arduously... also as a guest guitarist for Transoverload and Niki Em, as well as having an eye for great artists in general and a gift for communication.

Who is slated to receive the proceeds from Heartbeats? All proceeds are going to TPRF's East African relief initiative -- it's an amazing initiative to be a part of.

Why did you choose TPRF to be HBB's initial recipient? Back in 2001 I was invited to attend an event for the benefit of the tsunami victims that was sponsored by TPRF and Friends of the World Food Program and hosted by Miami-Dade Community College. I've been an enthusiastic supporter ever since!

Will HBB support other organizations in the future? Yes, eventually. But as an artist I believe less is more. In other fields it perfectly translates into consolidation... in other words:there is a lot of good music and art to showcase and a lot of good to do. This is where we begin.

TPRF has never let me down and they partner with only the best nonprofits, so by choosing them as my feature recipient charity I know the funds are being utilized at the highest level of integrity and efficiency -- and I can concentrate on giving people a good show!

So is it safe to say that Saturday's Heartbeats is just the first of many great good things to come? It is very safe to say! It's also safe to say we are gonna have a great time and dance our way to a whole lotta good! The more people we bring to this show, the more water,food and help we bring to East Africa It's that easy!
Heartbeats for East Africa with Transoverload, organicaArma, Niki Em and Kremadelik takes place Saturday, September 3, from 2-8pm at the North Beach Bandshell 7250 Collins Ave Miami Beach. Tickets can be purchased here or at the door. (Electronic only.)