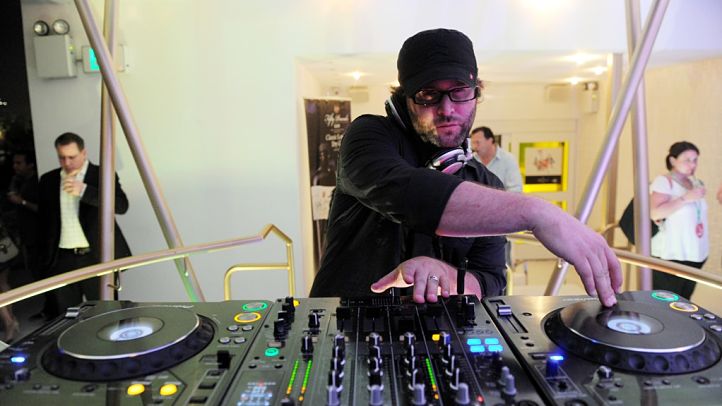 In Miami, there's no getting with a hotspot unless you're a hotshot, especially on South Beach, where heat means more than mere temperature. Just ask DJ Danny Stern. The last time Niteside collided with the steel wheelman he was spinning a slew of South Beach's hippest inns. Now he's upped the ante considerably, and can be found not just in the Lounge of the hippest South Beach inn (Hyde at the SLS), but also amid the action at some of The Strip's finest wine and dines (namely Philippe & STK). Add the cat's sounding off on the rooftop of The Perry, as well as at Midtown's Ricochet, and you've got one unequivocally hotshot DJ.
What's it like boothing up in ultra hotspot Hyde? Playing at Hyde Beach has just been amazing so far. The crowd, the atmosphere ... it's the real deal. I just started my Friday night residency there about a month ago and it's been real cool working with The SBE Group. I've been working with GM Bruno Cardinali and AGM Laura Cummins for a while now and the dynamic is great. It's slow season, but it certainly doesn't feel like it on Fridays. I'm really excited to see what season brings!!!
Which tracks are wowing that crowd right now? I start the night off playing indie dance and vocal house. Tracks by Group Love, Theophilus London and M83 are always surefire hits. As the night progresses, the format opens up and the energy gets kicked up tenfold!!! It's real hot!!
How's spinning at Hyde different from playing STK? The format from Hyde to STK really only varies at the beginning of the night. As you know, the main format of STK is a blend of '70s and '80s to present. As the night picks up and the clock strikes 12 anything goes. The Monday night party, which is brought about by Nicolas Couer De Roy and Company and the One Group, has been going strong for nearly two years now. As we like to say, "There is only one place to be on Monday nights ..."
How 'bout Philippe? Tuesdays at Philippe is the kickoff dinner party for Industry Tuesdays. It's definitely more loungy, so my format on this night is quite different than the others. It's a lot more hip hop but always sexy.
And The Perry? Been resident DJ for the rooftop of Perry (formerly The Gansevoort) for about three and a half years now. It's still one of the most beautiful spots on the Beach. I keep the format very open, because the crowd is always changing.
How'd you manage to land such privileged positions anyway? How did I land such privileged positions? Working hard, persistence, and maybe a little luck on my side (LOL). Good things happen to good people!!!
Speaking of privileged positions, aren't you also involved with Ricochet? Ricochet is the hottest spot to hit the Midtown/Wynwood area to date. Aside from DJing there once a month, I help Alan Roth and Tommy Pooch with the music programming and booking of the DJs. This place is just awesome and the vibe is always hot.
Where else might folks find you sounding off? In addition to my residencies in Miami, I recently started traveling a bit. In fact I just got back from a gig spinning a private party at a mansion in Toronto. In mid-September I'm gonna be rocking The W in D.C. and for NYE I just booked a gig at Somewhere Lounge in Turks and Caicos. Let's rock ...
Before we go, care to tell us what it takes to become a hotshot South Beach DJ? Hotshot South Beach DJ ... Ha Ha! Thanks for the kind words. I love doing what I do and always have ... That makes all the difference!
Danny Stern spins Hyde, Philippe, STK and The Perry. You can find out more about him here.