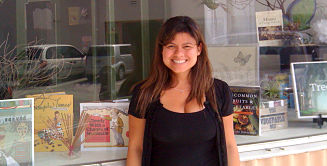 Living in the wild world is no easy feat. Between the speed needed to compete for everything from a parking space to a career, to the resolve required to make it through any given day, even the best of us can sometimes be thrown off balance. When that happens, we need to step back, take a deep breath, and still ourselves for the next onslaught. That seems to be one of the reasons why Ivonne Ledesma is opening up a spot called Sage. That and the fact that there can never be enough wisdom in the world. Niteside got with the proprietress in advance of Friday night's grand opening.

Tell us a bit about Sage. Sage Lifestyles (official name) is a boutique and a one stop shop for holistic and spiritual wellness. I wanted to offer consumers products that incorporated a connection with nature, spiritually, body and creativity. We have many locally made items including candles by Soy Candela, illustrative prints by Valentina Ramos and jewelry by Chrysalis Bleu.

Why the name Sage? Sage is a word that has dual meaning. As an herb, it is used by Native Americans for spiritual cleansing, and in English of course it means 'a wise one.' My intention is to bring wise living to Miami with a touch of spirituality.

Word is there's also a healing element to the shop. Yes. I have been a certified yoga instructor, Reiki and Angel Therapy Practioner for four years. In my sessions, I've helped people live healthier, have a more positive outlook on life, become closer to nature and get in touch with their spirituality.

What else have you got going on there? In the coming months we are going to offer meditation workshops, Reiki circles, creative workshops, workshops for kids, art shows and live music.

So, would it be fair to say that this will be a new kinda neighborhood hangout? In the two weeks I've been open, I've had a warm welcoming from the community. People in the neighborhood are drawn to the friendly and hip atmosphere.

Why did you decide to open up in Miami Shores? I've always liked the neighborhood and felt that it needed something young, trendy and different.

Frankly, this all seems rather altruistic. Do you have some kinda secret plan that will help you win friends and influence people in a me-me-me place like Miami? It may seem weird to only ask for donations for my sessions, but I don't want money to be a reason someone decides not to come in. Some people in Miami may have a me-me-me perspective, but all of us have the desire to connect with each other on a deeper level.
At our official opening, people will get a chance to meet other like-minded individuals, get a free Angel Therapy Reading, see the works of Miami Beach-based artist Drago Milic and experience the cool kick of Kid Sister's DJ Induce. Oh, and 10 percent of that night's proceeds will be donated to Hurricane Pet Rescue.
Sage Grand Opening, April 8th, 7-10 p.m. 211 NE 98th St, Miami Shores, 305-456-5337.