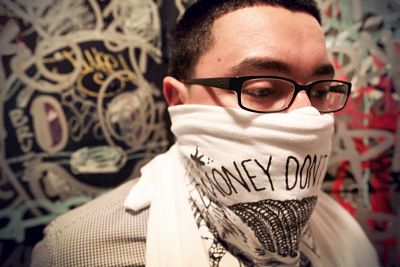 A few months back the space that was once PS 14 shuttered its doors for good. In its place opened a joint called Black Bar. Put into play by the keen folks of O.H.W.O.W. Gallery, Black Bar maintained the local-friendly feel of its predecessor and added a mad dash of art world cool. It also kept a cat named Javier Sanchez at the helm. Sanchez had been at PS for four years, working his way up the proverbial ladder until he reached the top. At Black Bar, Sanchez does what he did before and then some, running the night-to-night and generally keeping things copasetic for one of the hippest, no-nonsense crowds in the city.

Can you please tell folks a bit about Black Bar and what goes on there? Well basically Black Bar is an extension of the O.H.W.O.W. Gallery. It's a showcase of art, entertainment and leisure. We act as a canvas for local and foreign artists -- every two months we display the work of a different artist. By doing so, the establishment stays fresh and new while providing visual stimulation for enjoying a drink or two. The bar itself runs on simplicity, providing both a watering hole for the locals and bringing art enthusiast into the neighborhood. It follows its motto: No Cover. Cheap Drinks. No Hassle. We are not trying to be a nightclub just a bar.

Whose art work is hanging right now and who will we see coming up next? The art work that is up now is from Todd "Reas" James out of New York. He was a graffiti writer under the name Reas, has also worked with several galleries and has done commercials including the Crank Yankers and animations for Adult Swim. All I can say is that the next artist is from Miami and will look nothing like the work that is up right now. You'll have to wait another month or so to catch the new art.

What's in store for this weekend? We have a busy couple of weeks/weekends. Mondays are "Locals Only" night where we provide free food for the night and a guest DJ. Tuesday is our weekly party "Nightdrive" -- special guest Stravinsky this week. Wednesday night we have a special performance by BFGF with guest DJ Mike Deuce. Thursday our live music night returns with Hoosha and The Real Easy. Friday's musical selection is by Benton all night long. Saturday we have more guest DJs, and this Sunday we've got "BrainWaves," which is Alisha Trimble's Resort/Swim 2010 collection. The following Friday, April 30, will be the Jacuzzi Boys Tour Kick Off Show.

What's it like working with the visionaries behind O.H.W.O.W. anyway? It's a great experience -- working with creative minds can never go wrong. Their ability to come up with new ideas and combine the experience of the gallery in a bar space is genius.

Speaking of visionaries, Black Bar is in the space that once was PS14. What did you learn working in that downtown institution? I learned a lot during those four years at PS14. I came into this industry not knowing much -- it was actually just a summer gig while I was in grad school -- but with the economy being so slow and no architecture work available it became an extended gig. The experiences definitely built my character and knowledge of numerous situations that can occur on that block. Brian Basti took me under his wing and taught me how to run an establishment the right way. Aramis Lorie showed me professionalism and the eagerness, determination that it takes to be successful in the nightlife industry. I am very grateful for the opportunity they gave me and the trust they showed me to grow in this business.

Can you please share some of PS14's most memorable moments? There have been too many memorable moments to share. A couple that stand out: the Daedelus performance, The Wednesday Night Party "Finger Lickin'/Yo! BBQ" and the "Last Hoe-rah," which was PS14 closing party. Also all those long hours during WMC, all the moments shared with my staff and co-workers throughout the years and the crazy, odd things you see on 14th Street.

In the few years you've been handling some of 14th Street's fastest action, how has the 'hood changed and do you think it'll stay that way? It has changed a lot since I started working here. You have to be aware of your surroundings nonetheless. The growth of 14th Street has definitely helped make the area safer, but you have to understand we are neighboring Overtown.

What do think Downtown has that the Beach doesn't? It doesn't have all those out-of-towners that saturate the Beach and give a false impression of Miami. Downtown is a haven for the people of Miami. ... Grits without the glitz.

When you're not on point at Black Bar, where do you most like to hang out? I mainly stay low-key. If I do go grab a drink it would [be] at The Room, News Lounge at 55th Street Station or at Ecco Lounge.

What's on the horizon for Javier Sanchez? I have a lot of things to look forward to in the future, mainly to reach my goals and dreams. I am a strong believer that hard work and dedication will pay off. Returning back to architecture, which is my passion, is my main priority, but for now I am enjoying the experience of running a bar.