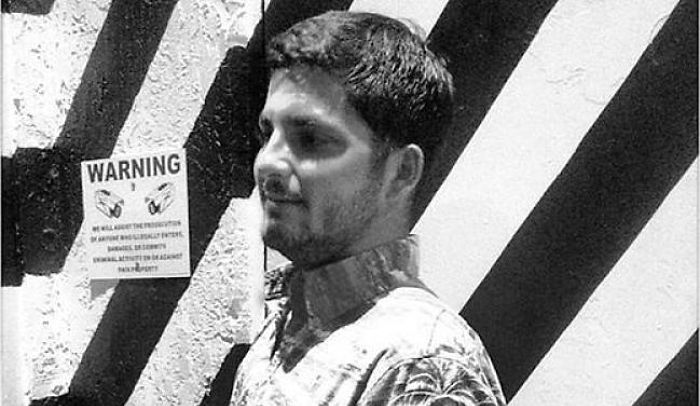 Miami may have more than its fair share of films fests and art movie houses (thank Zeus!), but that doesn't mean Miamians ever get enough cinema. When it comes to B-movie classics, we might never get enough. That's why folks flock to The Gutter Film Series at LAB Miami, and why they'll keep flocking, as long as that screen is standing. Gutter's own Joey Halegua fills us in on the action.
What pray tell is Gutter Films? Gutter Films is a free film series showcasing B-movies and cult films mostly from the 1960s-80s. I started it as a sort of cultural stimulator and as an alternative to the other (wonderful) film screenings going on in Miami. The idea is to expose people to the lesser known or forgotten films of the past in order to broaden their cultural spectrum. Our screenings are free and open to the public and we encourage the audience to bring their own food and drink.
How's Gutter fit in with LAB Miami? The three founders of LAB Miami (Danny Lafuente, Elisa Rodríguez-Vila and Wifredo Fernandez) were classmates of mine at Ransom Everglades High School. When I returned to Miami in June 2011, I heard that they were up to something cool called LAB. From the first time I spoke with Wifredo about the concept I was already on board. When they opened up their current space, I became a member and I'm thankful for the opportunity that LAB provides for me. Without LAB, Gutter Films could not exist as it does. We simply would not have a regular place to screen our films to the public. LAB has also been a great place to meet fellow artists and entrepreneurs and they throw killer parties during art walk.
Mind naming a few prior Gutter highlights? For our debut screening we showed a great Nazi-Zombie flick called Shockwaves. It was shot right here in Dade County and stars Luke Halpin, childhood star from the TV show Flipper. In preparation for the screening, I contacted Mr. Halpin and arranged an interview at his house in Fort Myers. I took a small crew with me so that we could videotape the interview. I have yet to release it to the public but we had him do a little video introduction to the screening and that was cool. He's a great guy and it was a real trip to be hanging out with a TV legend.
What's on tap for Monday night? Tonight we are showing our first film of the Back From 'Nam with a Vengeance revenge movie series: Eye of the Tiger. The film stars Gary Busey, Yaphet Kotto, and Seymour Cassel. It's a piece of classic '80s action/schlock rife with biker gangs (becoming a theme for us), cocaine, tricked out pickup trucks and plenty of ass-kicking by Busey. We open the space up at 7:30 for everyone to kind of settle in and socialize. The program starts at 8:30 sharp. Afterwards it's become a tradition for those willing to head over to Wood Tavern down the street to have some drinks and discuss the film.
Isn't there another screening slated for this week as well? To wrap up this month's screenings we are showing a great film called Rolling Thunder, which stars William Devane and a young Tommy Lee Jones and was written by Paul Schrader (right after he wrote Taxi Driver). The film is gritty, controversial and has been extremely hard to find on the home video market and so it has all the ingredients for being the perfect cult film. It is also known as one of Quentin Tarantino's favorite films – he chose the name for his distribution company and named Brad Pitt's Inglourious Basterds character (Lt. Aldo Raine) after Devane's Major Charles Rane. The plot is very similar to Eye of the Tiger: a man returns home to a small town after serving in the Vietnam War, thugs kill his family, the man gets revenge. I'm interested in hearing how people respond to the two films.
Anything else you'd like to add before we go-go? I (want) people to know that we have lots of cool programming planned for the coming months – in October we are showing a classic B-movie double feature I Drink Your Blood/I Eat Your Skin. It's the first time we will be showing two films that were made to be shown together. It will be the best possible way to get in the Halloween mood in Miami and I encourage all of the freaks to come out for this one!
For more information on the The Gutter Film Series at LAB Miami log on here.