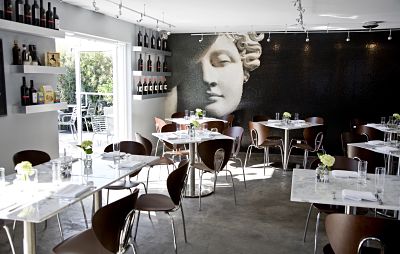 Last Thursday some of the more attuned of Miami's fun-seekers gathered in the patio at Joey's to officially christen the joint's new weekly series of live entertainment. There was music, naturally, as well as copious food and drink. And there was the kinda table-hopping that makes a great night even greater still. Niteside decided to get ask Joey's GM Yuri Tuma to fill us in on the details.

Joey's just started a jumpin' new Thursday, wanna tell us a bit about it? Yes, we now have got live music at Joey's every Thursday! We wanted to provide a relaxed, loungy night in Wynwood, where people can come listen to some local artists, drink some wine and eat some of our famous pizzas and pastas! We wanted to give people in the neighborhood a place to come and relax with some amazing local talent.

Who's on tap to perform this week? This week we've got Jennifer Wagoner, one of our own "Wynwoodians," who will be performing some smooth Jazz and classics acoustic style! She's an amazing singer -- and a dynamite chick. And we couldn't be more excited.
Next week we have a local band called Taboca performing. They are a melange of drum circle, Bossa Nova and Jazz! They go great with a glass of wine or one of Joey's signature cocktails, which includes the Mosca (a drink made with vodka and Moscato Wine) and the Honey Jack (Jack Daniels infused with honey served with orange flambe and fresh mint).

Isn't there another act in rotation? There is! We have a very talented local singer by the name of Lina Gaudezzi. In my mind she will make it big in the music industry and we are proud to have her in our repertoire! Her material ranges from a beautiful remake of Sublime songs to Florence and the Machine, and she does it all with great ease in melody, which perfectly fits the relaxed vibe we want to achieve.

Word is Joey's also recently launched some kinda new happy hour, that so? Yes it is! Every Thursday and Friday from 6-to-7pm we offer our house cocktails for half-off and we also serve some antipasti at the bar. It's the perfect beginning of a memorable Thursday night!

Anything else we need to know about Joey's before we go-go? Our new menu starts tomorrow night! You are in for a surprise with some new pasta dishes, including the "Paccheri Tartufati" (pasta with truffle oil) -- cannot miss that! We will also be introducing some new pizzas on the menu, including a shrimp and garlic pizza and a smoked salmon pizza!

Joey's is at 2506 NW 2nd Ave Wynwood. Thursday's showtime is 8pm. For more information call (305) 438-0488 or log on here.