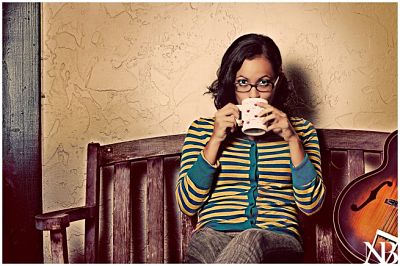 This Saturday night Grand Central will be the scene of some sonic wonder. It's part of the Absolut Glimmer Music Series, and it'll feature the sounds of Au Revoir Simone, Class Actress and The Blow. One of the outfits behind the absolute gift of an evening is called Mute Miami, which is led by a lass named Johanna Viscaino. Niteside decided we needed to know more.

What (and who) is this thing called Mute Miami? It is something I came up with 2 years ago. It has a lot to do with the local following my band Sirens & Sealions quickly attained and me thinking if for whatever reason we don't "make it big", I can always use our pull to spread the word within the Miami music scene that is "Muted" , so to speak, to many people that live in this city. I began hosting shows at venues such as Electric Pickle, the late Transit Lounge, The Stage, and Wynwood Kitchen & Bar, and I found myself in the position of event coordinator and booking agent and I liked it! With national acts it's about bringing them to Miami for the first time or in a unique manner (i.e. Au Revoir Simone or Of Montreal's Kevin Barnes in his DJ form as opposed to his lead singer persona).

Is Sirens and Sealions still making a racket? Yes, Sirens is still kicking and going strong for 2012. In fact we'll be opening for Givers at Bardot on January 19.

What exactly is your position at Mute Miami? I am Founder and President of MuteMiami. As glamorous as it may sound, when starting something from the ground up it means micro-managing all aspects of our events. I have an Assistant in Logistics and Tech, and a plethora of artists and production resources that make life a bit easier. Some Alumni of the Business and Marketing department from FIU also assist in various creative elements. I want Mute Miami to be known for its organization, detailed strategies, fewer hiccups and a guaranteed amazing experience for our clients.

What all is on tap for Saturday's throwdown? This weekend is going to be amazing! We teamed up with the right people. Poplife is a party that I have been attending since I was 18 and it is great to be working with them and have the support of Absolut and our other great sponsors. Absolut is providing two hour open bar when doors open at 9 p.m., and in addition to the bands Au Revoir Simone, Class Actress and The Blow, we will be pumped by the eclectic mixes of RunSevimRun and then be bombarded with female melodic bliss and the amazing presence and selected tunes of DJ List Christee. Need I say more? lol

Who else is behind the event? This Grand Central event is in collaboration with Poplife and various sponsors, including Absolut Vodka, PC Tools software and Evos organic foods. We couldn't have done any of it without them all!

Au Revoir Simone, Class Actress, The Blow will appear at Grand Central Saturday December 10. For more information log on here.