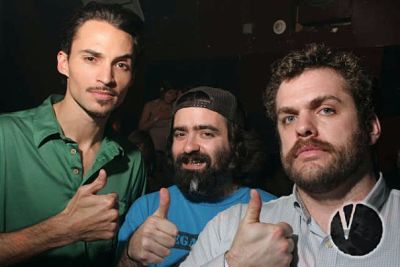 Anybody who's down with the sound of now showed up at The Vagabond last Thursday for Get Low, the monthly dubstep edition of the weekly (((Shake))). Noting both parties continue to kick out the jams, Niteside decided to get with Jsin Jiminez (pictured left), Sweat Records co-owner and one of (((Shake)))'s three main players.

First, can you please remind us a quick bit about (((Shake)))? (((Shake))) is the Thursday jam that Slim Biscayne, Aholsniffsglue and I throw at The Vagabond every week.

Don't you cats also host the monthly Get Low? Yes, Get Low is our big dubstep and bass party with resident DJ Juan BassHead and MC's Jumanji & Nome.

Didn't you just celebrate that party's two year anniversary? Indeed. We brought out UK dubstep legend Plastician and Mexicans With Guns from San Antonio, plus some of the best in local bass like Ashworth and Animal Krackerz. We've been putting the live mixes up on MiamiDubstep.com for people to relive the insanity.

Congrats! Let's get to tonight's (((Shake))) - what's on tap? Thank you, sir. Tonight we get back to classic (((Shake))) swag with our resident DJs A-Train and Rob Riggs and $1 Colt 45's from 10-11. Plus it's free with rsvp, so you can't beat that!

So, in a sentence, what should the madding crowd expect? Lots of dancing and drinking with your favorite local party people!