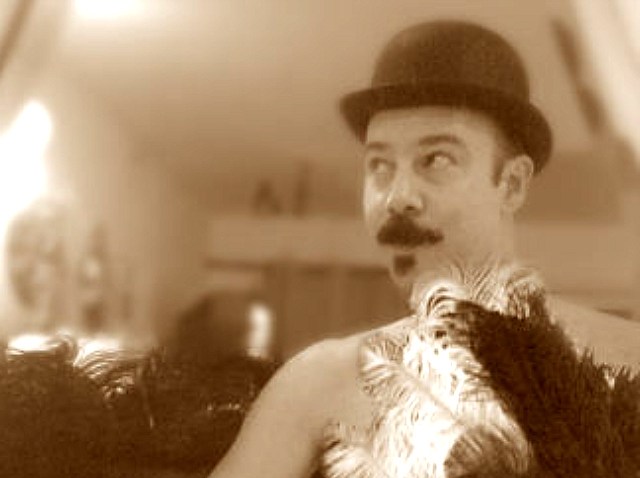 Leave it to Juan Carlos Zaldivar to not only mix séance and striptease, but also to do so while channeling the life of Cuba's most revered figure. In fact, in "Marti and I," the filmmaker puts both his lens and his body to the task of re-imagining the life of the poet revolutionary and, in the process, brings the legendary hero's story to a whole new dimension. Zaldivar, who also coordinated the Miami Film Festival's very successful "Cutting the Edge" series, will be doing up Jose Marti this Sunday night at the Miami Beach Cinematheque.

Who was Jose Marti and what makes him such an interesting historical figure? Jose Julian Marti y Perez, mostly known as Jose Marti, is the greatest literary and political figure that Cuba has ever produced. He was a poet, a prolific correspondent and an adamant Cuban Nationalist, who advocated for Cuba's independence from Spain. He was exiled from Cuba to Spain when he was 17 for allegedly writing for a political underground newspaper and lived in exile most of his life, mostly in New York, Paris, Italy and Mexico. He is credited with fostering and organizing the war of independence from Spain, which took place victoriously at the end of the 19th century.

In addition to his most popular and last book of poetry "Versos Sensillos" (Simple Verses) from which the lyrics to the popular song "La Guantanamera" are taken from, he is also well known for a book of children stories entitled "La edad de oro" (The Golden Age), which is widely read in schools and homes all over Latin America.

You call your film, "Marti and I," a "historical intervention." Could you please tell us what that means? This project is a historical intervention in that it attempts to reinterpret Marti based on his more obscure associations, friendships and work. Mostly it is how I see him. As a gender progressive man in the 20th century, my reality rarely appears in history -- certainly not in heroes or positive figures. I love Marti and what Marti stands for. If you look at Marti's traditional, historical interpretations, you will see that it boils down to two: the Cuban exile community -- who hail him as the ultimate exile that prevailed and triumphed over imperialist Spain -- and the communist view, which paints Marti as the ultimately revolutionary who fought and won the will of the people.

Both of these portraits subscribe to a hyper-male format. If you research Marti, you will find very little material from queer, gay, lesbian or female historians, or from those points of view. Gabriela Mistral was the first to stand speak out against the ultra-masculine picture often painted in a conference held in Cuba in the late 1930s. She was the only woman in the room then. I think it is time that we get another perspective on a man who I am convinced had to fight a second war during his life, one that had to do with whom he was expected to be and who he really wanted to be.

Visually you've taken considerable inspiration from motion picture pioneer "Eadwaerd Muybridge," whose images are more recognizable than the man. Why did you choose him as a sort of jumping off point? Well, Muybridge's photographs are an example of how history can be unfair. His photographs are considered by many today as the origin of motion pictures, but this notion is less than 50-years old. For the first five decades of filmmaking, the invention of motion pictures was credited to Edison and Lumiere, who were the successful businessmen who made the new art popular. Voltaire said that, "History consists of a series of accumulated, imaginative inventions." I thought it would be poetically fitting to use these wonderful studies of motion in the film as a subtle witnesses.

You also pay visual tribute to the early silents. Did you have a particular filmmaker or film in mind when you were creating "Jose and I"? No, I didn't have a particular filmmaker in mind, but I drew lot of inspiration to a selection of photographs of men together during the gold rush, curated by David Dreitcher. When I first saw the men in these photographs and their provocative poses, I wondered what had happened just before and after the photos were taken. In thinking along the lines of an undocumented history, I thought it would be fitting to recreate those moments on film and then cut out the frames that would have become the photos.

My film has many missing frames and segments. What would it have been like for my Marti to pose for a photograph with Whitman or Oscar Wilde? The fixed point of view of the early silent camera creates a wonderfully voyeuristic point of view that really added to the feeling that we were witnessing something that we were not supposed to.

This Sunday night you'll be showing "Marti and I" at the Miami Beach Cinemateque. But word is that's not all you'll be doing. Care to fill us in? "Marti and I" is turning into a feature film. In the feature I will dwell deeper on the research I have done on Marti and I will explore a very personal issue that I am not ready to talk about yet. In the meantime, while the short film travels the festival circuit, I want to build a following and a bit of momentum by doing a series of short performances in the context of the short film. The performances are seven minutes and consist of a séance, where I take in Marti's spirit and he addresses a modern audience through me. He then celebrates his new body by stripping to the song "La Guantanamera."

This isn't you're first time addressing your homeland and its people. Among other efforts you also wrote and directed a film entitled "90 Miles." Can you please tell us a bit about that flick? "90 Miles" is a personal documentary that aired on PBS for six years. It is a personal story that resonated with a lot of Cuban families both in Miami and in the Cuba. The film explores the many emotional wounds that we Cubans have endured due to the political and ideological divide that the island has suffered. It took eight yeas to make. I swore after I finished it that I would not do another personal film -- the film is mostly about my relationship with my father -- but here I am seven years later and I think the feature of "Marti and I" will be about my mother!

When you're not making or showing movies, where do you most like to hang out? I don't go out much, but I am always looking for the perennial party, go to museums and collections a lot and listen to talks. Lately, I like Rosa de la Cruz's building and its collection. I love Locust Projects and all they do and promote, and I like MAM's video collection.