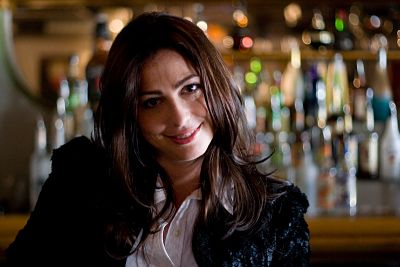 If you've knocked back a great bottle of Italian red at Scarpetta, Club 50, Bourbon Steak, The Cellar Club, Setai or any one of a number of our town's swingingest joints, there's a good chance it was all made possible by Katrina Rank. Rank is the rep for Castello Romitorio, the house label of the Chia family, whose head, Sandro, just so happens to also be one of the most renowned painters working today. But fine wine is only half of this hip chick's story; the other revolves around high art, and Rank handles both sides of her life with equal aplomb.

You seem to split your time equally between high art and fine wines. If you had to pair one painting to one vintage, which would it be? The Calling of Saint Matthew, a masterpiece by Caravaggio in the church of San Luigi dei Francesi in Rome, and Castello Romitorio Brunello di Montalcino Riserva 1997. Both Caravaggio and the 1997 Montalcino vintage chronicle the moment when a daily routine is interrupted by the miraculous.

Of the fine wines, you happen to rep a line that's actually owned by an artist. What would you say Sandro Chia brings to the table that perhaps another vintner might not? Deconstruction of style and originality. Sandro likes to think of the beauty in his vines suffering. ... Plus he's got his graffiti-tagging son (Filippo), who's part of the IRAK crew, serving as Director.

Speaking of art, word is you were behind a show called Float at Basel. Care to tell us what that was all about? My art partner Edwin Stirman and I made this happen in 48 hours. A super mega yacht stripped down except for the Botero bird on the piano. Julio Larraz hung a painting of a scull in the dining room, and we filled the upper deck with British artists Jake and Dinos Chapman and Tracy Emin and the odd picture of Gregory Corso by Allen Ginsberg. Each position of art was subjectively defined by its relationship with the boat's configuration. And the fluid motion one felt continued throughout the experience.

You're also involved with an artist-run space called Dimensions Variable. What's the story behind all that? The space was founded by artists Leyden Rodriguez-Cassanova and Frances Trombly, and it features projects that are more three-dimensional (i.e. sculpture, video, installation and site specific). We just closed a show featuring Charles Koegel. Most recently, I scouted artist Nellie Appleby at The Studios of Key West. She has a love for plants and her show, which opens in September, will offer guests salad and other edible creations.

Do you see yourself becoming more and more involved in that side of the art equation? If so, what's coming up art-wise for Katrina Rank? Yes, indeed. I'll be cataloging a private collection of over 600 works, as well as serving as a liaison between South Florida artists and local and global artist residencies. Street artist MOMO will be showing in Miami next year as part of the Fountainhead residency, and I helped make it happen.

Most restaurants, even some of the casual ones, now have wine lists. And most clubs now offer at least one or two decent glasses of both red and white. What do you think is behind wine's ever-increasing popularity? It makes the world a much happier place to live in. Plus people get better looking the more wine you consume. (laughs) You might also say that good-looking people and fine wine go well together.

As for wine lists, what do they tell you about an eatery? I am very impressed with the restaurants that choose wines based on integrity: Bourbon Steak House, Casa Tua, Michael's Genuine, Michy's, Timo. There is a thought process behind these wine lists that I find very impressive.

How important would you say the sommelier is to a dining experience? Knowledge and articulation is everything. But a good sommelier will not roll his eyes when you put a finger on a price. During my first day of wine school in Napa Valley I said, "This wine tastes like cantaloupe." I was scoffed at but was later reassured by Carissa Mondavi, who comes from generations of wine makers, that there is no stupid question or answer when it comes to wine.

When you go out and about at night, where do you most like to go? W Wine Boutique always has the best prices for wines and champagne. But for a night out I'd start with Barbu, an organic restaurant with only $5 corkage fee, and then hit Bardot, which has great red and white wine by the glass. Follow that up at Timo for the Hanger Chipolte Vodka (limited edition and hard to find), get a second wind with Turkish coffee at Mandolin, and then on my way home I'd swing by Magnum Lounge to catch the last piano act.