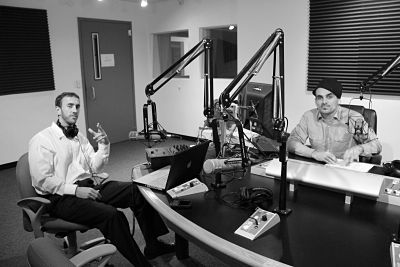 Picture this: You're lazing on a Sunday afternoon, some grub on the barbecue, something cold and intoxicating on ice, a few good friends by your side. There's talk and there's laughter and there's camaraderie, and there's the feeling that you've earned this privileged place in the sun. Now add a soundtrack; one that takes you back without basking in nostalgia, and moves you forward without rushing things. That'd be "Sunday Coolout." The new show from DJ Sire Esq and DJ Manuvers. Niteside got with the dizzy-making duo before they hosted another episode; here's what they had to say.

What's the big idea behind "Sunday Coolout"? It started as a desire for us to get on FM radio. We both have experience in radio, and wanted to get back in a setting outside of the clubs that gave us freedom to expose and play music in Miami that is not regularly heard on the local airwaves. We knew, in theory, what we had pitched conceptually was something that is missing on radio all together (excluding college radio), and we were able to connect with local jazz station WDNA to play our own brand of funk, soul and grooves rooted in jazz on their Sunday afternoon slot.

Do you both have radio backgrounds? Manuvers: I did FIU's WRGP college radio for approximately four years, and I've also DJed here and there on WVUM 90.5 FM. I am currently covering for the host of "Freedom For The Funk" all of this semester on WVUM as well. (Tuesdays from 9-11PM.)

Sire: I had an internship in high school getting coffee at WAXY 790-AM and also worked in programming while in college at Gainesville's Magic 101.3. I've done internet radio on Miami's w305.com

How different is your on-air spin from what you throw down in a club? It's very different, and in a lot of ways it is something refreshing. Usually in a club setting or a gig out and about, you have to play a certain mood or vibe. The Sunday Cool Out is just the opposite. We can play anything we really want and not worry whether it's for the "dancefloor" or if it's "too long" of a song. The show is a mix of Jazz, Soul, Funk and pretty much everything in between including music that has derived from these genres.

Are you cats digging any other current DJ radio shows? Manuvers: The legendary DJ Scratch (Djscratchradio.com) has a few online shows that are real interesting to me. Usually he has different VERY high profile DJs that come on to his show and just chill out and listen/play music like if you were hanging out with them in your living room. I guess that the beauty of the internet, being able to do things like that and not have to worry about a sponsor, or someone censoring what you do.

Sire: I'm into the Gilles Peterson and Benji B shows on the BBC out of London. A couple U-Stream shows including the MikiDz show and DJ A-Train's Ocean Frontin Radio. Funkmaster Flex and the Juan Epstein podcast on Hot 97 out of NY always make for good entertainment too. Locally WVUM normally has something good on the air and I'm an avid listener of Sports talk radio 790AM and the Dan Lebatard show

How'd you come to air-up on WDNA anyway? We contacted a few stations about starting a show, but WDNA was the one we managed to connect with. We got in touch with Carlos Garcia of the Sound Theory show through our friends from the local band Ketchy Shuby and he pointed us in the right direction. In addition to Carlos having a great show on WDNA, he runs a new venue called The Stage in the Design District, which easily has become one of the best live performance venues in Miami.

In addition to the Coolout, you two are part of the crew that's behind the long-running Champion Sound. Wanna tell us a bit about it? Champion Sound is a party put together by five very different and talented DJs from the Miami area. Ourselves, Lumin, A-Train and Mr. Brown. It's kinda like a Voltron of music styles and DJs -- possibly one of a kind in Miami right now. The big idea is basic. We are DJs and music collectors, so this is the one night of the week where we can play what we want and take the crowd anywhere we want to go. In other words, it's a DJ's party. People come to be put up on new music and re-discover old grooves, dance and most importantly have a good time.

Champion Sound has also brought down a lottta out of town talent. Wanna share a couple-few guest highlights? We've brought in Jeremy Ellis from Detroit, King Britt, Mr. Supreme from Seattle, Quantic and plenty of local bands and DJs, from Ketchy Shuby and Agape to DJs Le Spam, Sharpsound and Induce. As a weekly, we try to keep the party fresh every Wednesday.

Are there any other activities that fall under the Champion Sound banner? We've been doing different mix CDs under the Champion Sound name that have been very well received. Besides mixes, we have been working more on the branding of Champion Sound as a collective, but at the same time all of the five members of the crew are consistently working on solo projects and efforts. On that note, we've got some good stuff coming up for Winter Music conference this year.

Where else have you two been boothing up lately? Manuvers: In addition to the Tuesdays "Freedom for the Funk" show on WVUM and the Wednesdays Champion Sound spin I do a Thursday weekly at The News Lounge. On Fridays I'm sometimes at The Stage, and on Saturdays it's either The Stage or Get Some at the Electric Pickle. Then it's Chocolate Sundays at Purdy Lounge.

Sire: I rotate at Cafeina (will be there next Thursday with Arboles Libres), Plunge in the Gansevoort Hotel, Seminole Hard Rock and Florida Room, plus I work with DJ Irie's Artist Related group. I'll also be at The Stage -- for the first time -- next Saturday, Feb 12th alongside Suenalo.

What else have you got comin' up? Manuvers: Induce's album should be out soon, I produced and co-produced a few tracks on that. Sire: I'll have a couple new mixes out in time for Winter Music Conference.

"Sunday Coolout" airs each and every Sunday on WDNA 88.9 on your FM dial.