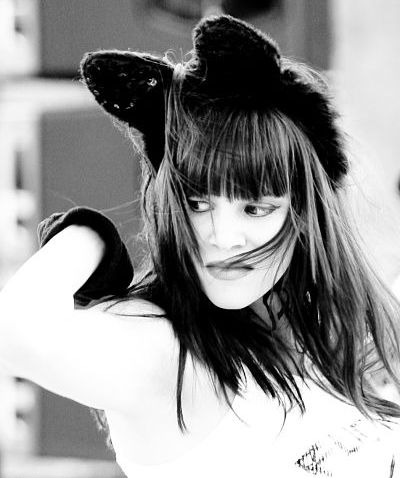 To catch neo-glam rock band Kill Miss Pretty is to catch wonder in the palm of your hand. Like some back-alley fairy tale come to life, KMP is unquestionably the closest thing South Florida's got to veritable awe. And though the their notably wild stage shows find both guitarist Russ Rogers and bassist Martin Davis bedecked as if Tim Burton had dressed them, all eyes generally go to singer Alicia Olink, whose presence is at once bedazzling and beguiling.
Where did you get the name Kill Miss Pretty? It was actually a song title, a destroy-your-ego kind of thing. When we were choosing a name for the band, Russ said let's just use that so we did. In retrospect [I] would have chosen something without the word kill in it.

If you could sum up the band's sound in a single phrase, what would it be? Jovial, sultry adventure.

You're known for over-the-top stage shows. How integral are the visuals? We make each show its own escapade, something we can really look forward to and enjoy preparing for -- like we are throwing a party for everyone who is going to be there. The goal is to have the best time ever. Hopefully creating an atmosphere where the audience is participating in the show, like a crazy fun party that makes you wake-up smiling the next morning or afternoon.

Art of Shade's Kayce Armstrong creates a lot of your gear. How'd you connect and what does she bring to the table? We met her through Martin (bassist). It's been great that she's been able to dress me for some of our shows. Her clothes are a lot of fun to wear.

Besides "The Wizard of Oz," if KMP had a chance to star in a classic movie, which flick would it have been? "Alice in Wonderland" or "Coraline."

KMP worked with ex-Mansonoid Daisy Berkowitz on the new single "Judy Garland." How'd he get involved and what did he add? Martin was in a band with Scott [Putesky aka Daisy B]. He's a friend of ours. He loaned us his guitar for the "Haunted Houses" video and played a medium in the opening scene. Then we thought it would be fun to have him add a guitar track to "Judy Garland." He's talented as hell. The addition of his sound is a joy to my ears.

What can folks expect when they catch KMP onstage at Squeeze/Sea Monster this Saturday night? The unexpected. People should bring an open mind and their imagination

When you and the band roll out at night, where do you generally go? We're suckers for a good art show or a great live band. If we end up at the Poorhouse though, the hangovers are going to be horrific.

Kill Miss Pretty plays Squeeze at Sea Monster Saturday Feb. 20.