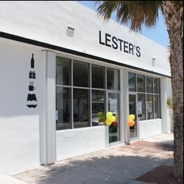 You read books. (You better, anyway.) And readers can always use a new book. You also hang in Wynwood. (Or you better.) So you know there are a few way cool places where books are welcome. Tonight though heavy-reading scenemakers get to have their cake and eat it too. Why? It's World Book Day, that's why, and Lester's is giving away books.Really. Head man Daniel Milewski explains.

What the hell's World Book Day? It's a one night mass book giveaway that happens in the UK, Ireland and the US started by World Book Network, an organization which began in the UK. Essentially you register a month or so ahead of time in order to hold a WBN event and receive paperbacks. It's really a great initiative to help spread the love of reading.

How'd Lester's get in on the action? WBN was brought to my attention by my friend David Gonzalez, who runs a blog called Cabinet Beer Baseball Club which reviews books, food, drink and more importantly Major League Baseball. He recruited a few of us to join him in the giveaway and Lester's just seemed like the perfect venue to hand out the paperbacks.

What all is on tap for tonight? Basically we have 120 or so books to give out of various titles and people can just stop by Lester's between 7 and 10pm and snag a free book.

Any other upcoming events you wanna cite? We have the second installment of the Vintage Clothing Salon that we did a couple months back coming up on Wednesday the 25th at 7pm. Lester's will turn into a mini pop-up vintage store from Wednesday to Saturday the 28th. We'll be open our regular hours but half of the space will turn into a vintage store with both men's and women's garb dating back as far as the 1920s. Also our pop-up restaurant known as Wynwood Supper Club will be happening on May the 8th. We also have our one year anniversary this May, so we're planning a huge party for Saturday May 26th to celebrate the occasion.

Lester's celebrates World Book Day April 23rd from 7-10pm.