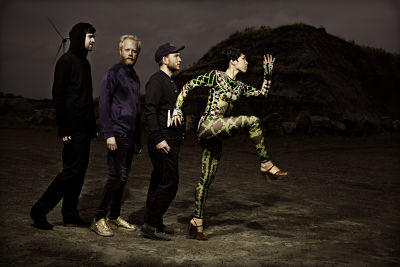 They've gotten the nod from Gorillaz' Damon Albarn and TV on the Radio's Dave Sitek, not to mention those fiends we know as The Overthrow. They've been featured with SBTRKT and DJ Shadow, on Grey's Anatomy and Revenge, as well as in an old spy station atop Devil's Mountain for Hugo Boss TV. They spring from Sweden, sound off at the Seal Colonie, and were once plagued by Machine Dreams. They are Little Dragon, and they make a racket that reaches deeper than any Blue Swede sea. Come out to Grand Central on Saturday night and experience it for yourself.

What's so big about Little Dragon? The "little" part of the name.

Does Yukimi still throw the tantrums that sparked the name? No, she stepped out of the whole dragon thing and became a girl... we liked the dragon better.

Speaking of sparks, word is she breathes fire -- is that so? Yes! Both fire and ice.

Do any other Little Dragon members have mythical and/or dangerous gifts? No... Fred has a bass, Håkans girlfriend has an electric bike, Erik used to have a car.

Of all Scandinavian myths, which would Little Dragon best serve to soundtrack? All of them. But mostly about Frej and Freja and also some about sleipnir.

Of all Sweden's pop stars, then or now, who would Little Dragon most dig touring alongside? Blue Swede, the guys who made "Hooked on a Feeling."

Would it be better to dispense with geography and simply say Little Dragon is a band of the whole wild world? Much better. We don't agree on the whole this-is-my-land-and-my-flag thing...

Little Dragon performs live at Grand Central Saturday October 22. For more information log on here.