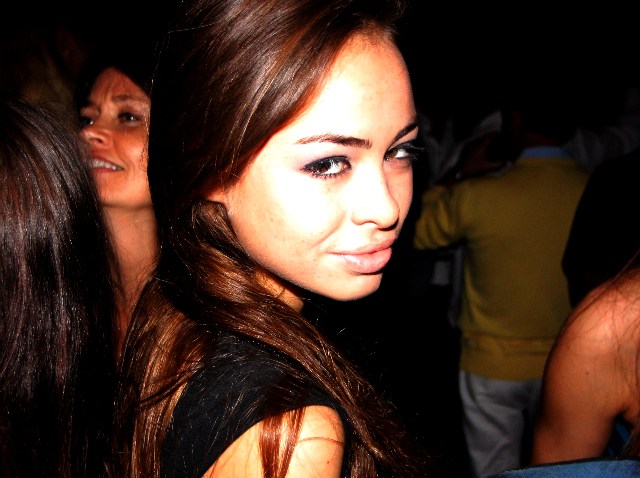 When it comes to getting into the VIP section of Miami hotspot LIV, there's no better contact to have than Tatiana Frank. She also handles the fast action that goes down at the owners' table in the Fontainebleau and is now making sure the proper breakdown of beauty and bold-face names exists at Avenue in New York. Niteside caught up with her in the Hamptons to find about her life in the Magic City and the city that never sleeps.
I know you're involved with Miami Beach's LIV and now The Avenue in New York. When folks ask what you do, what do you tell them? The title promoter is not always familiar in all company. It's my job to create the best possible atmosphere in terms of the crowd -- specifically the VIP section. So, normally you will see my table at LIV surrounded by 20-plus of the most beautiful and vibrant ladies -- all of which I'm proud to call my friends -- as well as the occasional celebrity or two. I try to keep the energy high and genuine and never ever sloppy. Although when people ask, it is easier to refer to my job as marketing" because I do work for the marketing companies in charge during the day.

Does your work go beyond the two clubs? Yes. I host exclusive dinner pre-parties on those nights. It's invite-only where we enjoy free food and drink at the best restaurants both cities have to offer. Great conversation and company is shared which makes for a smooth transition to the club.

Do you have a different game plan for each city or is it mostly the same crowd? Miami and New York are like night and day. I'm actually new to New York and in the midst of forming a whole new game plan. First thing that comes to mind is transportation. ... No one has cars here so I'll be having a private car pick up my group. Second is the energy of the crowd. It's a bit more serious and low-key as opposed to the all-out, let-loose, 24-hour-party lifestyle of Miami. New York is also the fashion headquarters of the country, so there's a larger pressure on physical standard and you're going to find yourself in a taller, skinnier coterie. The capacity is less and you really have to know someone here. I'm really going to try and bring the Miami style of having fun here, which is shameless, free and not frightened by what others may think.

What are some of the most spectacular nights you've been in on at LIV in Miami? Every night is really spectacular at LIV. It's a performance club and the people who put it together are amazing at what they do, always pushing creative boundaries. It's Vegas-style and aimed at your total entertainment. No one else cares as much as we do about the crowd.

What about the Avenue? Avenue is very different. It's a smaller club than LIV with an equally large reputation. There isn't a VIP section because anyone who has the privilege of getting in is important on some level.
Word is you're also involved in a new start-up. Can you please give us some of the details? I can't give too many details but it's basically an elite network of people, an invite-only, higher-tier social group. It's called illuminati and it's not a publicized, accessible thing. It's also not easy to explain because it's something that hasn't been done or approached this way before.

Prior to your getting involved with nightlife, you used to model. Can you name the campaigns where we may have seen you? I was never highly involved in modeling or as serious about it as my friends. I would just have contacts that would send me to people for jobs that they thought I was right for. I had walked in some shows last swim week and did on-camera hosting with a local TV show that covered a lot of fashion events. I would interview the designers backstage and meet great people that way.

How did that bit of modeling help you with your working the nightlife? I suppose the most valuable gain from experiences with modeling/hosting was my character and social development. I really feel getting along and connecting with people you meet is a skill that requires sharpening just like any other. And I am able to create relationships with people of all ages and backgrounds and learn from them in a short period of time, which I love. I love people. I'm a people-lover.

Are there any other cities besides Miami and New York where you could see yourself living? I definitely need to travel more before answering that but I'd like to spend some time in L.A. I like places with a large, diverse group of people with goals and ideas of their own. Places that are too quiet make me unhappy. It feels like standing still, and if you're standing still, well, you're not moving forward.

When you're not handling the action at The Fontainebleau, where in town do you dig hanging out? Well there is also my friends' clubs and restaurants, which I try to support, but if I have a free night I like to be somewhere spontaneous more than anything. There are great house parties on the islands like Star Island, Hibiscus Island and Dilido. And Mondrian and Plunge both have excellent day time pool parties.

What about New York? In New York, I enjoy eating at Tao and I'm looking forward to the opening of Lavo, which is really going to be a real re-introduction to House Music for the city scene.

What's coming up for Tatiana Frank? Maybe my own club or lounge, who knows?