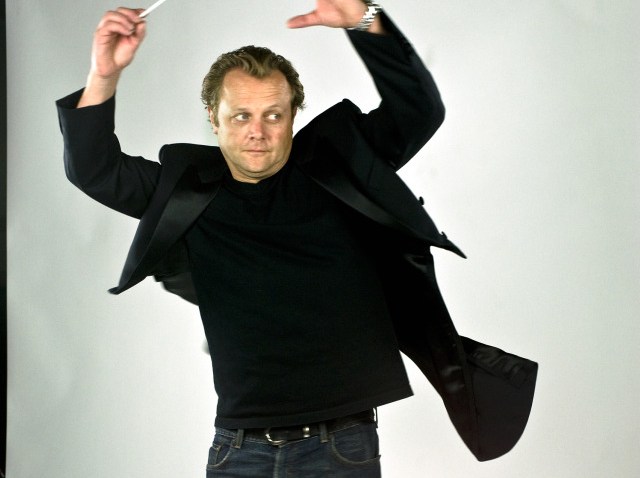 Miami thrives on beautiful chaos. Perhaps that's why the minds behind "Pandemonium" decided to make their U.S. debut here, and why The Adrienne Arsht Center saw fit to make it their season opener. If the early reports are any indication, our havoc-riddled city is thrilled with the results. Niteside got with "Pandemonium" co-creator Luke Cresswell at the start of the show's 10-day run; here's what he had to say:

"Pandemonium" is opening the season at The Arsht -- congratulations! What do you think of our fair city's signature venue? I love the venue; it's a great space both in acoustics and sight lines. It feels a very large house when standing on stage, but feels quite intimate when sitting in the seats.

How does The Arsht stack up to other venues around the world? It's one of the best theaters we have played, very modern, lots of space for working. A good venue to premier new works.

What about Miami itself? In your opinion, has it joined the ranks of world class cities? Unfortunately, I have been in the theater constantly so I have yet to experience Miami in its full glory... but I will!

The opening also marks "Pandemonium"'s U.S. debut. Where has it staged prior to this, and where will it be going? We have only played in UK (Brighton and London), Australia (Sydney Opera House), and Amsterdam. All were short one-off engagements. This is the first long run/tour of "Pandemonium".

What's "Pandemonium" all about anyway? "Pandemonium" is an eclectic orchestra, using everyday objects to produce an anarchic symphony. It's a playground of mad instruments performed by 26 mobile musicians and a local choir.

Word is you're recruiting those choirs from each city you visit. Where did Miami's choir come from? I have yet to meet the Miami choir but Steve has worked with them and he's very excited about how they sound. They are a local choir found through one of the churches. Steve knows more.

There's also a rumor that every instrument was created solely for this show. Can you please tell us a bit about that? Every instrument was designed and made for "Pandemonium". We tried to find different ways to reproduce the different sections of an orchestra. The strings became saws, the woodwind became Squonkerphones... Some instruments are just adapted props, such as a bottle with water in and blown. Other instruments have been made with plumbing pipes, wood, balloons, traffic cones --anything we can adapt.

You're not only the co-creator, but you're also one of the performers. Is this the first time you've gone back onstage since the beginning of "STOMP"? (How does it feel?) It feels great to be on stage again. I have not performed in America for at least 6-7 years so it will be a shock for the body. But the mind is still young and looking forward to the challenge.

Speaking of "STOMP" (which, by the way, is still running after nearly 20 years)... Was it difficult to follow up such an astounding success? We don't see "Pandemonium" as following "STOMP". "STOMP" has had an amazing journey and is still evolving and performing all around the world. "Pandemonium" is a new venture and a very different show. It's larger, harder to tour, more complex to produce. It will have its own journey and hopefully enjoy a good life. Time will tell.

Will we have to wait another 20 years for a follow-up to "Pandemonium"? I hope not, but we like to work in many formats; theater is just one of them. We are very busy producing two large format 3D movies along with several other film and music projects. It's great to get back on stage though, so I hope to work in theater a little more.