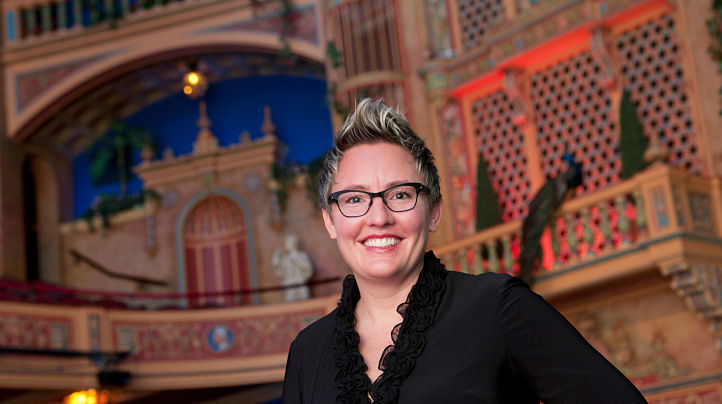 Anyone who's anyone has been to The Gusman,and each and every one of 'em has left thoroughly awed by the experience. Officially known as The Olympia Theater at the Gusman Center for the Performing Arts, this 1926 former silent movie palace is one of the absolute jewels of Downtown Miami. This Saturday night Miami Lyric Opera comes in to wow all of Gusman's many Friends. Director Margaret Lake explains.

What's on tap for the next Friends of Gusman gathering? As we're coming to a close of our Knight Foundation-backed grant period (ending June 30), we've decided to show our appreciation for our Friends supporters with an exclusive cocktail reception before the opening night performance of Miami Lyric Opera's Madama Butterfly. Old and new Friends supporters are welcome to join us for an hour of cocktails and conversation. If you're not yet a Friend of Gusman and would like to be, you can purchase a membership here.

Isn't there also a little extra something for those quickest to show their support? Yes, any new Friends who make a donation this week will receive: two tickets to the show, an exclusive invite to a Friends of Gusman-only cocktail reception, two comp drink tickets to any Gusman show, and $20 to Pasha's Healthy Mediterranean Cuisine (our Red Curtain Circle supporter) and they get to feel good about supporting Miami Lyric Opera, and the Olympia Theater at the Gusman Center.

It's a proverbial bargain at twice the price, right? We are so thrilled to partner with Miami Lyric Opera and showcase this opera -- it's definitely a steal. We're encouraging everyone to attend this weekend by inviting people to give something and then receive even more. We want to share our enthusiasm and ensure that patrons will have a great experience and return to the theater again and again. This is an opportunity for people to rally around the arts in a building that is central to this community's identity.

Have you considered folks who can't manage to land a ticket to Saturday's affair? Yes, Miami Lyric Opera is presenting a second showing on Sunday, June 24 at 4pm.

This weekend's wowing won't be Miami Lyric's first time taking to Gusman's fabled stage, will it? Not at all. Miami Lyric Opera debuted in the Red Curtain Series back in April with its presentation of Lucia di Lammermoor. The acoustics of the theater are so amazing that opera is a form that really suits the venue.

Haven't you and Artistic Director Raffaele Cardone since become even closer? I met Raffaele four years ago, and at that time he told me the history and success of Miami Lyric Opera's productions at the Colony Theater. He was selling out events at the Colony and wanted to move to a larger theater. It was at that moment that I began to devise the idea for the Knight Foundation's Knight Arts Partner grant program. Two years later in 2010 the Friends of Gusman received $100,000 to start the Red Curtain Series. Raffaele, along with a handful of other organizations, made the final cut and we embarked on a partnership with Miami Lyric Opera. I was extremely proud to walk on stage that debut opening night in April and introduce Raffaele and the Miami Lyric Opera to the patrons and guests of the Olympia Theater. Miami Lyric Opera is bringing us a new audience, a new product, and the Olympia Theater is hoping to become its new home.

Will Miami Lyric be coming back again this summer? Yes, they have their final Red Curtain Series performance of Barber of Seville on Saturday, August 18 at 8PM and Sunday, August 19 at 4pm. We are delighted to have Miami Lyric Opera back this summer.

Are you deliberately trying to blur the lines between on- and off-season or what? We are deliberately trying to grow a few resident companies. We are also interested in offering programming when others are not. While there are the canonized seasons for the performing arts, it is exciting to think that we could always be "in-season." Living in Miami is a bit like that when you think of the weather, which is why it's so exciting to be here any time of the year. Since we produce these opera's in the summer, Raffaele gets to hire singers from all over the world that may be on break from their home companies. We aren't competing with other operas and the people of Miami get to enjoy a product that is superior.

Well, Miami wholeheartedly thanks all of you. Would you like to thank anyone before we go-go? We'd love to thank all of our supporters, including Friends of Gusman, The Knight Foundation, Miami DDA, MIAMI magazine, LIME Mexican Grill, Tom Jelke Foundation, Pasha's Healthy Mediterranean Cuisine, and all of our Olympian and Friend donors. I would like to thank the staff that works at the theater, and Herman Echevarria and the Olympia Center, Inc., Board members who created a new non-profit 501(c)3 to manage the theater. Their dedication to this venue is the reason that it remains open today.

Miami Lyric Opera Madame Butterfly stages this Saturday and Sunday, June 23 and 24, at 8pm and 4pm. For more information log on here.