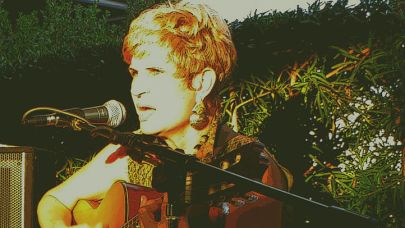 While Wynwood may be most world-renowned for its spectacular murals, the District consists of wondrous variations in all the arts, and that includes music. Want proof? Hit Joey's on a Sunday or Wednesday and hear how Brazilian-born chanteuse Mariana Martin wows the ever with-it crowd. But the Bossa Nova bred singer's new residency is more than yet another perfect note in the long-running series of soundings going down at Wynwood's first eatery; it's also a deliciously melodious way to catch a gal whose talent was worthy of Bossa Nova's great creator Antonio Carlos Jobim, which is why the master made her his protege. If that doesn't spell wondrous, nothing does.
How do you like performing for the Joey's crowd? I enjoy it very much, I find it to be a very responsive as well as eclectic crowd, from young couples and groups of professionals to families with their cool kids. It's definitely a very warm environment -- for everyone -- and I'm very pleased.
This won't be your first landmark residency, will it? No it won't. I played with a Jazz trio upstairs at The Van Dyke every Tuesday night for three consecutive years. The trio (which included bassist and music director Dr. Don Wilner and pianist and Professor Mike Orta) recorded a CD from this show called Bossa Nova Blues that has both Brazilian Jazz and Bossa Nova. At the time they had also just opened Soyka on Biscayne and we played outside in the courtyard at 54th Street Station for the opening party and any other special celebration that came along.
Any significant differences between what you did then and what you're doing now? Yes, at Joey's I play solo (acoustic guitar and vocals), and the tone of the performance is more mellow. I have arranged some of the jazz songs to have a more "lounge" feel to them, and I've also introduced a selection of American Standards which are performed with a Bossa Nova rhythm, as well as original Brazilian lounge songs.
Anything significantly different between the South Beach and Mainland audience? Yes, I believe the mainland vibe is more soothing :-) It's also a completely different environment, and it includes a lot of what I believe to be mind opening art, which makes people more receptive to the art in music.
Speaking of differences, how does Miami most differ from your native Rio? Well, I always say the South Beach is my American Ipanema Beach! We even have Carnival parades once a year and lots of Brazilians in town. But Rio de Janeiro is more tribal. People are unified by the phenomenal Brazilian culture, where in Miami there's such a diversity of cultures.
In what ways are the two cities most alike? The beach scene for sure, otherwise Rio is, believe it or not, in many ways a very Catholic, family-oriented small town. At least until the month of February when Carnival takes over and the moral values flip.
Will folks hear be able to hear a good bit of both at Joey's? Yes, I like to make sure to try and play both worlds and use Jazz improvisation to sort of meld it all together.
Care to mention anything else before you go-go? Just would like to say that my experience here in the Wynwood Arts District has so far been a wonderful one. I'm extremely pleased to be part of the music scene at Joey's and hope to be able to continue to contribute with my music throughout 2013. Happy New Year!
Mariana Martin performs Sundays and Wednesdays at Joey's 2506 NW 2nd Ave Wynwood.