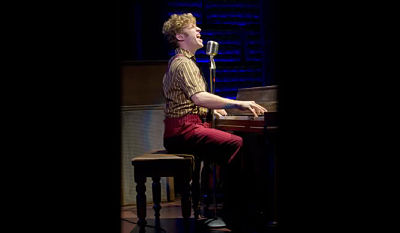 On December 4,1956, Johnny Cash, Carl Perkins, Elvis Presley and Jerry Lee Lewis found themselves thrown together at Sun Records' storefront studio. Naturally, the four did what they were born to do -- they made a racket. Million Dollar Quartet recaptures that historic evening, and troubadour Martin Kaye portrays Jerry Lee. Niteside got with Kaye in advance of the hit Broadway play staging at The Arsht.

What's it like playing a legend like The Killer? It's pretty cool playing an actual person rather than a fictitious character, and the fact that he's still alive makes it rather strange. Having read his biography and watched so many videos of him, I guess it's a little intimidating because I don't want to do him any injustice. It's really just about capturing the essence of Jerry Lee though, rather than impersonating him.

How do you rev up to play such a fiery presence? I don't really do anything particularly special...except just look in the mirror and tell myself in a very strong southern accent that I'm awesome!

Were you into the music before you portrayed the man? Not especially. It's not that I didn't like it, it just wasn't something I listened to very much. I grew up listening to Elton John and Frank Sinatra, so my influences lie elsewhere, but now that I've learnt about it and exposed myself to it more, there's absolutely no way I can say I don't absolutely love playing this music.

Have you gotten to meet the man yet? No, haven't yet, I do hope to though, although I'd be pretty awestruck!

What would be the first words you'd say when/if you do? Probably some sort of blabbering and then something along the lines of "Goodness gracious...it's...lovely to meet you."

Do you know whether or not he's had a chance to catch the show? He did come and see it when it was playing on Broadway a year ago I think. I heard that they walked him on stage (due to his frailty) to play "Whole Lotta Shakin'," and halfway through the song, he stood up very slowly, lifted his right leg behind him and very lightly pushed over the piano stool. Got a standing ovation. The man's still got it.

When you're not conjuring early Jerry Lee, you're making music of your own -- wanna tell us a quick bit about it? Well, I've released one album called "About You," which is kind of a fusion of funk, jazz, and pop. That was done around six years ago, and since then I've been touring a lot. Have written another album, very different to the first, it's much more eclectic. It's nearly finished being mixed and mastered, so hopefully it'll be ready for early 2012!

Million Dollar Quartet opens Tuesday December 27 at the Arsht. For tickets and more information log on here.