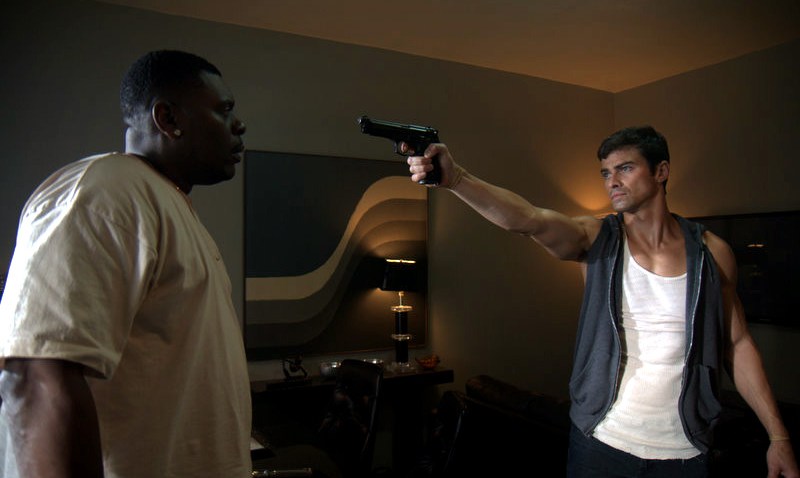 Miami Beach-born Matt Sinnreich began his hustle as entrepreneur, founding three (count 'em) companies before he reached the ripe old age of 22. A couple years back he flipped two of the companies and began focusing on film. Within no time he'd co-produced and sold a feature (Cougar Hunting), worked on a two-time Golden Globe-winner (The Kids Are Alright), and associate-produced a Sundance Official Selection (The Ledge). Tonight the fast-working operative is taking over The Colony Theatre to premiere his very own Trigger. Niteside sidled up for the lowdown.

Can you please give us a quick synopsis of Trigger? Trigger is a 30-minute short film that has been touted as an emotional and psychological rollercoaster about what it takes for one to actually pull "the trigger" and take another human's life. Immediately captivating the audience, the film opens with a man holding a gun to a drug dealer's head, and then regresses back through the gunman's childhood, exposing the circumstances of how he ended up in the position, and ultimately, how fate has brought everything full-circle.

Was there a single incident or episode that inspired the movie? Anyone who has ever had a significant other has thought about pulling the trigger. But in all seriousness, I was hired by a studio to write and direct a film last March. While writing, flashes of the storyline for Trigger burned so strongly in my head that I had to put an outline down on paper just so I could concentrate on the task at hand. When I decided to separate myself from the studio's project because of creative differences, I began writing Trigger that same day; then after a little help from my writing partner Lee, well, here we are.

Word is the proceeds of The Colony premiere are going to charity -- care to fill us in? This is true. All profits from the premiere will be split between the Make-A-Wish Foundation of South Florida and Angels of East Africa. Angels of East Africa is the basis of a movie my good friend Gary Safady produced called Machine Gun Preacher. The story inspired me to take action, as it was very apparent that the children desperately needed funding to survive. I feel the Make-A-Wish Foundation of Southern Florida's mission is congruent to my move to LA, in the sense that I made a wish to be in the movie business, which is incredibly difficult to break into, and when that wish came true, I felt it was only right to pass it on.

Trigger isn't the only flick you're helming this year, is it? You sir, are far too good at what you do. I'd like to know who you roughed up to get this information? I will officially announce that I am writing, producing, and directing the movie Sins of South Beach, based on the same-named novel by Alex Daoud. The movie is Blow meets American Gangster. It is the true story of murder, violence, and corruption that made South Beach (based in 1979-1992). It's my dream project.

When do you think that will make it to the big screen? I am aiming to start filming November of next year, however, I am still in the process of attaching a producer. I would love to work with Michael Bay on this one; I know he loves Miami and he inspired me to be a director; I look up to him and see him as a mentor.

Any other Sinnreich news we need to know about? I find out about major festivals etc in the coming weeks, so you'll either hear about that, or you might have to put together a nice obituary... Trigger is by far my best work yet, so I hope that it is received as such.

Matt Sinnreich's Trigger premieres Wednesday November 23rd, 7:30pm at The Colony Theater. For more information log on here.