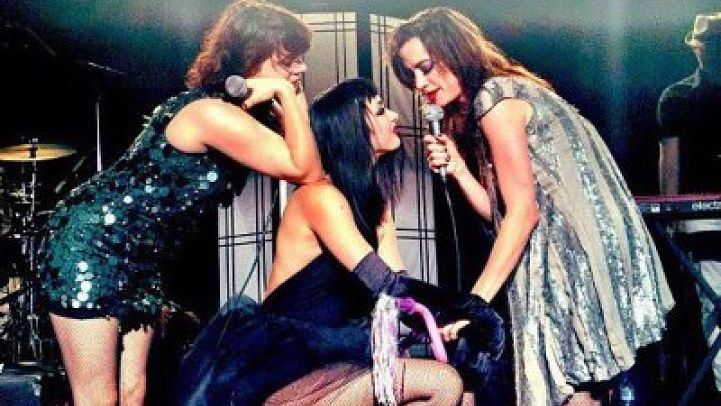 Whoever thought merging New Wave with bossa nova would come to naught, obviously thought wrong, way wrong. For not only does the bright idea continue to shine, even after nearly a decade, but after repeated glistenings, its illuminating of Miami has become a near-tradition. We speak of course of the outfit known as Nouvelle Vague, whose trademark twist on modern classic tradition swoons through town every other blue moon. This Friday night The Rhythm Foundation is bringing back the beatific act, and this time they'll alight at Grand Central. Dress like Mad Men in Paris.
If you had but one single sentence to sum up the sound of Nouvelle Vague, what would it be? Just how it translates: nouvelle vague = new wave (in English) and bossa nova (in Portuguese).
How 'bout a single sentence summing up its vision? A girl on a beach in Rio in 1962, singing "Love Will Tear Us Apart" with only a nylon-stringed guitar.
Speaking of sound and vision, have you ever considered putting your trademark spin on David Bowie's same-named classic? No, because we covered Bowie only on this special project called Hollywood mon Amour, but somehow we can say that he is the father or a an uncle of the New Wave movement.
We especially dig NV's take on "America" ... how'd you get the ever-great Juliette Lewis to chime in on that track? I read in an English magazine that Juliette was a fan of Nouvelle Vague and I learned that we were both on the label Play It Again Sam, so when she came to a concert in Paris we met at her hotel and very naturally we agreed that it would be great to work together! Working with her was an amazing experience, I must say; she's a great artist.
Do you know if Bowie has heard either tribute? No, I never got any feedback from him, but yes I'd love to have his opinion.
Have any other of the artists who've received the NV treatment over the years given you feedback? A lot actually; from Gary Numan to Martin Gore, Terry Hall; Barry Adamson, Jean Jacques Burnel, Jello Biafra ... The most interesting one was from Vince Clark, who apparently said that he hated what we did on "Just Can't Get Enough," but that our version of "Don't Go" is better than his!
Will we be hearing any of those applauded songs at Grand Central this Friday night? Yes, we'll be doing "Just Can't Get Enough" and some other classics, as well as some of our new material for our next album which is all originals! It's our fifth album but our first original one! We're so excited about the new material.
What other surprises does NV have in store for Miami this time? A fantastic dancer named Zula and her lightsaber; as well as Liset Alea, a Cuban singer from Miami who now lives in Paris (and who I believe invited her childhood best friend Nicolle Chirino to be the opening act for us). We'll have great costumes, spontaneous moments of improvisation, lots of energy, and various surprises which I can't mention. Remember, it's the last show of our monthlong North American tour, so it's a big night for everyone!
Nouvelle Vague performs Friday, Nov. 2 at Grand Central. For more information log on here.