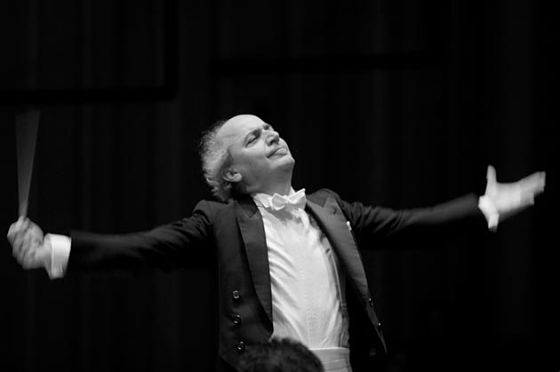 Last year, The Miami Symphony Orchestra closed its season with a program that was unmitigatedly Romantic. This year they're doin' likewise, only different. The slate's pegged as The Three Great B's, and, yes, it consists of selections of Bach, Beethoven and Brahms. Niteside got MiSO's maestro Eduardo Marturet to talk us through the what and the why.

Last season closed on the Romantic; this year you've opted for the Three B's. Any correlation? Yes!, there might be one considering that both programs are charged with a highly emotional content, romantic if you wish to think of it that way.

What other attributes to the B's share that make them such a joy to produce? While there are other B's which would definitely be considered great, such as Bizet, Berlioz, Busoni, Borodin, Bartok, Bernstein!, just to name a few. Bach, Beethoven, and Brahms are without doubt among the greatest composers in the history of music. The three of them were geniuses, highly prolific in musical output, and had the biggest following with the audience. You simply cannot go wrong with them!

With all the composers' works, how'd you decide which pieces to perform? Good question! The Beethoven Concerto for Cello, Violin, and Piano is very seldom performed and, yet, is an amazing piece of work. We had to find three congenial soloists, and we found them in Katinka Kleijn, Anne Chicheportiche and Ciro Fodere, who make an intimate and yet fiery Trio. The Symphony by Brahms, Nº3 (the number appears again!) is considered by many included myself to be his best. And the Passacaglia by Bach, originally composed for Organ, which was masterly orchestrated by the famous conductor of the Philadelphia Orchestra Leopold Stokowski is a massive work like a huge gothic cathedral.

Do you have a favorite of the three composers? Yes, Brahms has always been my favorite of all times, but both Beethoven and Bach come closer in 2nd and 3rd place.

What's next for Marturet now that MISO's season has come to a close? It marks the beginning of my summer guest conducting travels to South America and Europe. Also is time for the Marturet composer to take charge and get inspired on two major film projects.

And next season? MISO opening night on Sunday October 21st, again at the Arsht Center, with Rachmaninoff - Piano Concerto Nº3, Sibelius - Symphony Nº7 and Kodaly - Galanta Dances. With the great Russian virtuoso Konstantin Soukhovetski at the piano.

Miami Symphony Orchestra The Three Great B's takes place Friday May 9, 8pm at The Arsht Center. For more information log on here.