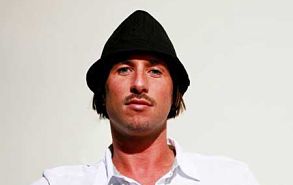 He's been Naked, Salted and Astralwerked. Now he's unmitigatedly Om. Why? Because he's gone Outside the Skyline, that's why. He's the award-winning super DJ Miguel Migs. And this Saturday night he returns to The Vagabond to show everybody how dance gets done right.

Wanna tell us a bit about your new LP? The album is called Outside the Skyline and it features a wide variety of musical styles and some very talented artists. Even though the album is filed under "electronic/dance" music, it's more rooted in soul/dub/funk and disco,making it more of a listening pleasure based experience rather than a night out in the club. I wanted to create a cohesive body of work that showcases some of my musical inspirations focusing on quality production and song-writing... music to enjoy...

Word is you've assembled a rather impressive guest list -- care to fill us in? Outside the Skyline features an array of tremendous vocal talent, from disco legend Evelyn "Champagne" King, soul singer Meshell Ndegeocello, Brazilian bossa nova songstress Bebel Gilberto, reggae legends Capleton, Freddie McGregor and Half Pint, Berlin-based singer Georg Levin, UK soul singer Sonny J. Mason, and of course the always amazing Lisa Shaw and Aya...

Will any of the aforementioned be featured in Saturday night's spin? Yes, Lisa Shaw will be performing a couple songs live with me, and I will play a few remixes off the album...

What else might folks expect to hear this weekend? A night of deep, bouncy, soulful, dubby, techy dance music with elements of disco and funk thrown in there... I never pre-plan my sets, I just show up at the gig with a bag of music and spontaneously have fun with it, testing out new tracks as well as throwing in some of my favorites and edits...

Any other special surprises? Plenty of good vibes! And some cd giveaways...

This ain't your first boothing-up at Vagabond is it? I've played in Miami for many years now, and I think this is the fourth vagabond show.

We imagine it won't be your last? I'm sure I'll be back in Miami soon enough... and of course Winter Music Conference is always a blast.

Miguel Migs spins Vagabond Saturday October 22.