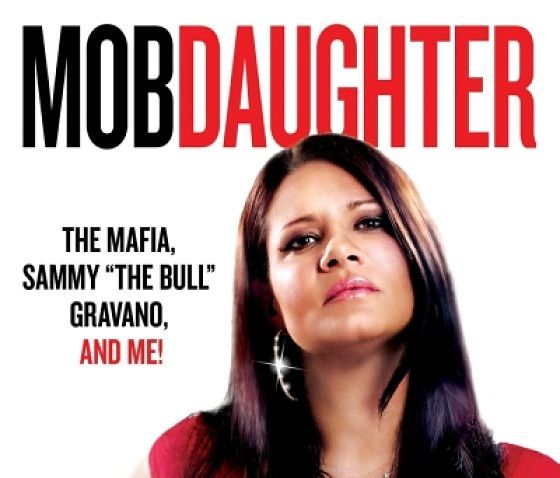 She's the daughter of perhaps the most notorious turncoat in Mafia history; a man whose admitted murder count (19) is exceeded only by the amount of fellow gangsters he helped put behind bars (39). Like her father, she too has told all -- to the Feds (to stay outta jail), on VH1 (in its Mob Wives), and now in memoir (Mob Daughter). We mean, of course, Karen Gravano, whose pops Sammy "The Bull" was once Number Two to Gambino Family head John Gotti and is currently serving 20 in a Federal Supermax. She will be at Books and Books this week.
What, in brief, is the big idea behind Mob Daughter? The reason I chose to write the book is because I feel like my life came full circle. I have a complete understanding about why everything happened, about who my father is, why he chose the lifestyle he did and the effects it had on our family. I also came to terms with all the mistakes I made in my life and the changes I want to make for the future,so I can set a more positive example for my daughter and nephew.

How does it differ from Victoria Gotti's own semi-parallel account This Family of Mine? I think the way it differs is we are two different women and not everyone sees life the same. I think the one thing that we do agree on is that we both love our fathers and we accept them for who they are, but we realize the life they choose has taken a toll on both our families. Not every person has the same stories though, so...

Have you anything to say re: Ms Gotti's slamming of Mob Wives? All I can say is has she ever watched her own show? I'm not here to criticize other people; I'm here to make money and take care of my family. She can stay in her lane and I'll stay in mine.

What about Frank Morano's equally unkind swipes on The Apple? I don't pay attention to people's unkind remarks. I know why I am making the show and I just stay focused and keep my eye on the prize. You can't please everyone.

Where do you think this enmity stems from anyway? I don't know nor do I really care. People are entitled to their opinion the same way I have my opinions. I just try to stay true to the reason why I am doing the show. I know who I am as a person, a mother and daughter and I am confident in my decisions. I don't let negativity affect me.
Moving on... how inside a look did you get of mob doings? Although my father tried to separate his world from his family life, it was still hard because we were around him, and any of the other men in that life I considered family as well. My real uncle was a part of it and so were some of my friends' fathers, so I couldn't help but see certain things. I would see the way the men would interact with each other, like when someone walks in the room there always seemed to be an order of respect shown one another, whose hand gets shaken first and so on. I would see them go off and walk and talk about certain conversations they didn't want the family to hear or they would whisper things to each other; other times I would come home and find my father with paper bags full of money and he'd be counting at the kitchen table making piles with rubber bands on them. I would see stuff like that growing up.

Whose hand got shaken first? If someone walked in a room they would shake John Gotti's hand first, then my father and down the line. I was able to tell the men that were in power because the way other men and people interacted with them.

Any other social club protocols you care to mention? I was only in a social club a handful of times because it was a place women and children really didn't go and that's what I think stands out most to me -- that these clubs were always filled with just men. A lot of times my father would stop by; leave us in the car with my mother while he ran in for a minute.

Two decades on, with your father now in Supermax, have you reconciled with his testifying against his former associates? Yes, I just came to terms with that. It was his lifestyle. It was his decision to become a gangster and it is his decision to walk away from life. I think what is really important to me now is I understand why he did both.

Where does Karten Gravano go from here? I would love to write another book. I truly enjoyed this whole process and I'm hoping to develop the book into a movie. I'm currently in talks right now. Also I've owned a day spa for many years in Arizona where I was developing my own skin care line. I'm currently partnered with a very respected plastic surgeon and we're opening a med spa in Manhattan and about to launch a skin care line, so I am extremely happy about that I love anything to do with skin. I've also been working with my brother to gather some family recipes. My brother has been a chef for many years, and he cooked at our family restaurant back in the day, Now we're talking about opening a new restaurant in Arizona and he is developing our own line of Italian sauce from old family recipes. In fact, they can be purchased on our website.

Karen Gravano reads from and discusses Mob Daughter Friday April 20, 6:30 at Gables' Books and Books. For more information log on here.