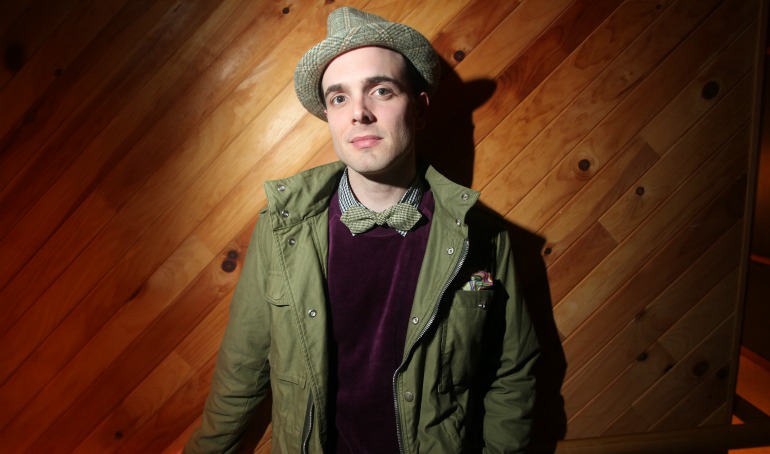 His "Lost and Loved" mixtape series gave beatitude to the break-up and made sad the new black. His Wonderful Sound struck solid soul and put the stir back into songs we both sing and dance to. With another V Day right around the corner, another Wonderful single on the racks, and a another date added to his already rockin' roster, Niteside thought it wise we once again wow out with the DJ/Producer known as Induce.

What's the story behind the new single? The new single is the third that's been released from my upcoming album Halfway Between Me And You. It's called "Livin' In The Future" and was produced by my friend Jack Splash, who just got nominated for two Grammys! I also had my friends Gigamesh and Lazaro Casanova remix it and both are awesome!

How'd you and Jack Splash connect? Jack is a long time friend from when I was a part of a record label called Counterflow Recordings. At the time, he was in a group called Plantlife. We've always kept in touch and he was the main person pushing me to sing and has become such a huge inspiration to me.

So you ready to tour with Cee Lo? Ha! NO! I would be down to open up as a DJ though!

What about Gigamesh and Casanova? I've also known Laz for years, from the Poplife and Revolver heyday. We used to DJ together and he's always been a nice guy and I like his vibe so I wanted to have him involved in some way.

I met Gigamesh through Danny Daze -- they're in a couple groups together: Senor Stereo and Discotech, along with Joe Maz. I ended up singing on his song called "When You're Dancing", which I LOVE so much I asked him to then remix one of my songs. Bada bing bada boom.

Any plans to work with either/both again? YES! Jack and I have a project we are working on, but it's top secret. I also just sang on a remix Gigamesh did for James Curd that will be out in the near future and me and Lazaro have talked about doing some stuff together too. Even with the three different styles these guys do, I feel like each of us mesh perfectly.

What other Wonderful Sounds can fans expect in the near future? Check my Twitter for new DJ mixes. I just finished my annual two-part Valentine's Day mix, "Loved & Lost 6 & 6.2". It's for those of you who like to bum yourself out on Valentine's Day.

Speaking of wonderful sounds, what's the what with the new Friday night? I played at Cafeina not too long ago and they apparently liked the vibe, so I'll be back this Friday. It's a mix of new and old stuff, from all genres. House, new Disco, Classic Disco/Boogie, Indie Dance stuff, maybe a little polka.

Any other spins we need to know about before you go-go? I'm also at The Living Room at The W Hotel on Saturday nights, which is very sexy and makes me feel too sexy for my shirt. I'm also poolside at Arkadia in the Fontainebleau Hotel on Sundays during the day. That's real fun because I get to play really hood hip hop for ball players and rap stars.
Is there one spot in town that you're really itching to spin? LIV on Sunday. Period. I could quit my life after that.

Induce spins Friday at Cafeina, Saturday at The Living Room, and Sunday afternoons at Arkadia. Other ways to wow to The Wonderful Sound can be found here.