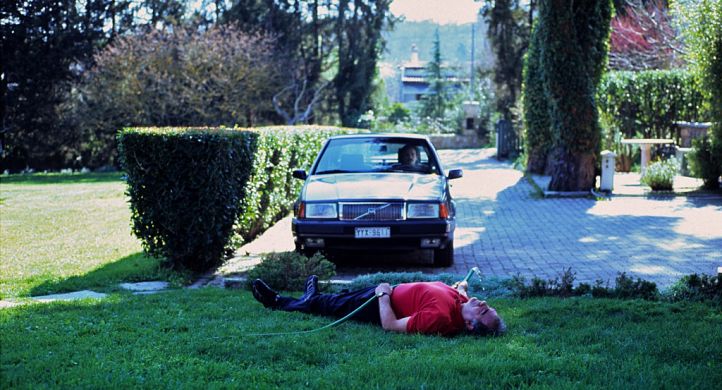 Chronic headlining to the contrary, Greece is the scene of much more than a bad economy. In fact, one could say that some of what's goin' down might just in the end trump mad money matters completely -- or at least prove compelling enough to silence all the doomsayers. That seems to be the general consensus among the world's wiliest cineastes anyway, who see the fabled country's new-fangled Cinema of the Absurd something worthy of great award. Niteside got with Beben Films producer Amanda Livanou on the eve Miami Beach Cinematheque's Greek New Wave Weekend.

What will befall the next person who asks you about a Greek New Wave in cinema? I'm glad you asked! But if you can be listed under the same category as Godard and Truffaut and Rohmer and Rivette, even in a different time setting and with the terminology in English, then perhaps you may find something positive in it.

How 'bout the next person who inquires about the country's economy? I'm even less qualified to talk about Greece's economy than I am about the Greek New Wave. All I can say is we don't seem to get it together economy-wise, but interestingly enough, as soon as Iceland went bankrupt Dogtooth happened and suddenly people were interested in Greek cinema. So even though long-term planning seems like madness these days, I can safely say that we intend to keep making films any way we can, as long as someone wants to watch them.

Might it be true though that bad economy can be good for cinema? Yes! But people go to the cinema less often than they did before, and if you ask me it was not enough to begin with. I don't mind what films you visit a theater to watch as long as you do. Well, I'd rather you watched some arthouse too but you can't have everything.

What other factors might favor an aspiring filmmaker? The possibility of making more money than Spielberg, Lucas and James Cameron combined. Or perhaps the chance to answer questions at midnight from an apartment in Athens to promote your film's showing at Miami Beach Cinematheque, because some fantastic people like it enough to invest their energy and resources in introducing it to another audience.

There was also a lot of love in the making of L. There were not many of us, never more than 25 people for each day's shooting, but there was a lot of love, on set and after. For those of us who are interested in those things.

Will film fans see evidence of such favor in this weekend's line-up of Greek movies? We've shown the film in many countries since it premiered at Sundance in January, and the response of the American audiences was a pleasant surprise for us. Obviously "weirdness", or rather my preferred term, abstraction, is not everyone's cup of tea, but there were some fantastic reactions in America and really great questions and ideas at Q&As that we still talk about. I think perhaps fearlessness and honesty transcend barriers like language, or "difficulty", because once you've left yourself bare for all to see, an open, curious audience will find its way through it. I am sorry I will not be there this time. Thank you for inviting us.

Miami Beach Cinematheque's Greek New Wave Weekend runs Friday June 29 through Monday July 2 and features various feature films. For the complete line-up log on here.