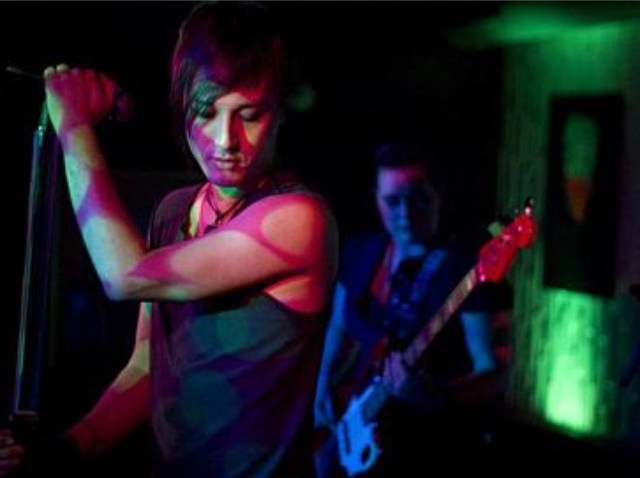 Miamians know that our town is made up of much more than models, bottles and booty music. In fact, we've got a lock on everything from nu disco to neo folk, not to mention some of the most mesmerizing modern rock bands sounding off in any land. Among the latter is Astari Night, an act that puts beat to a beautiful brood. The four-piece consists of R. Furey (bass), Illa (drums), Albert Grey (guitar) and lead singer Mychael Ghost, a glamorous wisp of a man who's got a winning way with words. This Saturday, Astari Nite will be up in Lauderdale helping The Bubble celebrate its first birthday. Niteside got Ghost to give up the goods.

Why the name Ghost? Around the time Astari Nite was formed I was in hiding from people from my past. There was a life before inside of me that wanted to vanish. Someone once said in a crowded room I reminded them of a ghost, so the name stuck around. It will vanish soon enough.

While we're at it, why Astari Nite? I always admired the work of Vincent Van Gogh, and the painting "The Starry Night" was always very eye-catching to me. In my perception, it sums up a perfect world. I'd stare at this painting for countless day dreams and always spoke the name out loud. After speaking to my band mates about it, we tore the name apart and decided on Astari Nite.

Astari Nite's sound seems to have some seminal New Wave influences. Can you name a couple bands that most inspire you and why? I think I'm mostly inspired by really great songs regardless of the artist, style or genre. But the bands that do inspire me have not only great songs but something that connects with me on another level. Bands like The Cure, Oasis, INXS, Placebo, Pet Shop Boys, New Order -- theses bands inspire me in many different ways that go beyond just music.

What are some other things that you find inspiring? Reading lyrics from writers I admire, Boris Karloff Frankenstein movies, Christmas, watching people smile and laugh and the sound of rain falling. I have a really good CD that's helps when we hit dry spells.

What's your take on Miami's live music scene, and do you think it's come to a time when bands don't feel as if they have to leave in order to "make it"? Any night of the week you can venture out and find something to do in this town, and there is always a group of musicians dying to pour their heart out to anyone that will listen. It's the promoters/venue owners that make it amazing, people like, Rodney, Aramis, Lolo, Carmel, Nassie just to name a few. As for not leaving this town in hopes of making it, well home is a place you can always come back to -- it's good to leave for awhile.

Speaking of the scene, what are some of your favorite local bands? Rebel is totally out of control, kind of like a disco in a foreign land. People from Venus, well, they're just from another planet, and Music is a Weapon, they can save lives with their sound. These are the three stars in my eyes. I just can't get enough.

If you were given a chance to tour with any band working right now, who would it be? I would love to tour with The Cure. Their music is the soundtrack to my life. Every record they put out is brilliant.

This Saturday night you're playing The Bubble's one year anniversary party. For those who don't know, what's The Bubble? The Independent Working Artists Network (IWAN) is a South Florida-based production company dedicated to the arts and cultural progression. IWAN's concept production facility "The Bubble" is their home base. It's a downtown Ft. Lauderdale multimedia arts gallery and creative space focused on showcasing and supporting independent talent such as Francesco LoCastro, Raffa & Rainer, Skot Olson, Dooms de Pop, and countless others.

What else does Astari Nite have on the horizon? We're currently mapping out selective shows in and out of South Florida, and the idea of touring a bit in Europe is becoming more of a reality. We're also trying to record another EP for release hopefully in the fall, which should gear us up for a debut album sometime late next year. Our Song "True Romance" should be available for download from the Rock Band Network in a couple of months. There is a world somewhere out there. I'd like to walk through it.

When you hit the town where do you most dig going? Kill Your Idol, Vagabond, and E.P. -- Electric Pickle. I just don't like saying the name -- are enjoyable places to go to. I also like the event Purdy Lounge has on a Wednesday. It's a pretty sight. Ray Milian and Josh are some of my favorite DJ's. They make people dance.