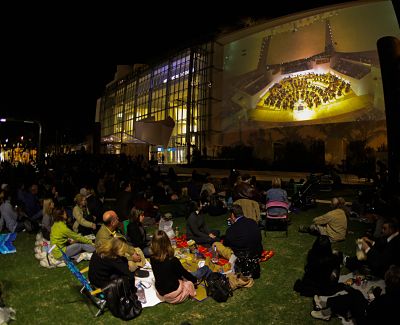 Too bad T.S. Eliot didn't spend his springs in a venue like New World Center, because then he'd never have accused April of being "the cruelest month" -- he'd have called it "the coolest." Then again, with a line-up that ranges from legendary American composer John Adams to vaudeville throwbacks The Thomashefskys, "cool" may be an understatement. Niteside got with New World's Craig Hall for the month's lowdown.

Before we get into what's coming up, for the two people who don't yet know can you please fill us in on New World Center? Sure thing. The New World Center is the home of the New World Symphony, an orchestral academy for young musicians from around the world who've dedicated themselves to careers in classical music. They're incredibly bright, with interesting and creative ideas about the way classical music should be performed and experienced, and how it's integrated in communities worldwide. As such, the New World Center is a laboratory for exploring and testing these ideas, and those of [conductor/composer/educator] Michael Tilson Thomas, and the NWS staff. As the New World Center was designed around that program, it also serves as the perfect venue for other organizations and artists who are willing to push the boundaries, tilt the lens, or create the ultimate, immersive experience for audiences.

What's your role in the scheme of things? I help to tell the story of the New World Symphony. There's a common misunderstanding that we're a professional orchestra located in Miami Beach, like the San Francisco Symphony, New York Philharmonic or the Chicago Symphony. It's easy to mistake us for that, because the quality of our musicians is so high, but there's more going on here, something special. We're a unique institution; there's not another like us in the U.S., or the world, for that matter.

Thanks. Now we can proceed. This weekend marks the appearance of one of America's most esteemed composers. Wanna fill us in? Yes indeed. Composer and conductor John Adams will be joining us, for the first collaboration here at New World Center. He's worked with us before, at the Lincoln Theatre, and it's always special when he comes. He has such a dynamic personality, and his passion and insight about the subject of his compositions is conveyed so well by his music. As a conductor, he develops a rapport with the musicians that empowers them to deliver a really insightful and intense musical experience.

Next Wednesday New World's got a rather unique free event. What's that all about? The April 6 "Inside the Music" event is a collaboration between the O Miami Poetry Festival and the New World Symphony. The O Miami Poetry Festival is a month-long series of events, projects, and collaborations occurring throughout Miami-Dade County in April, and a core part of its mission is to collaborate with South Florida arts organizations, and to have every resident of Miami-Dade County encounter a poem this month. The event, led by our Conducting Fellow Teddy Abrams, will explore a variety of ways poetry and music interact and inspire each other. Instrumental music will be paired with poetry readings, providing a unique perspective or interpretation of the music and the poems.

Also next week there's a program that'll take folks across the pond to Paris. Can you give us the lowdown? Two performances, that will be stellar. The guest artists, conductor Stéphane Denève and pianist Jean-Yves Thibaudet, both have an inimitable sense of style and expressiveness, and will showcase a Parisian-based program. The concerts will feature the music of Ravel, Roussel and a work by Connesson titled "A Glimmer in the Age of Darkness," which he dedicated to Denève, his close friend. The April 9 concert will be featured as an NWS WALLCAST concert, which means we'll project it on 7,000 square-foot front wall of the New World Center, so people sitting in the beautiful new SoundScape park can enjoy the concert for free, outdoors and under the starry Miami Beach sky.

Word is there's also coming a four-night stand of something unique to Miami - and to New World. How 'bout it? Yes... The Thomashefskys: Music and Memories of a Life in the Yiddish Theatre is quite a unique event. Believe it or not, Michael Tilson Thomas' grandparents were stars of the Yiddish Theatre. Not just stars, but mega-stars, really. Via the theater, they addressed situations that many immigrants experienced upon arriving in America, and helped tens, maybe hundreds of thousands of people deal with life in the New World. At the height of their influence they owned theatres in and outside of New York; published their own magazine, The Yiddish Stage; wrote columns in the popular Yiddish newspapers of the day; sponsored and encouraged new generations of young artists; brought uncountable numbers of Yiddish artists to the United States and tirelessly raised funds for progressive social causes. The Thomashefskys is the story of Michael's grandparents, and what they and others experienced while adapting to the American way of life.

The performances are also special because they mark the final live engagement of the production, ever. They're being recorded for a future broadcast on PBS' Great Performances, which will allow the audience to be part of the performance as well.

Besides the events themselves, you mentioned the Center's outfitted for some special outdoor attractions. What have you got on tap for April? The New World Symphony will present two WALLCAST concerts, on April 9 as I mentioned before, and on Saturday, April 30, featuring Michael Tilson Thomas, who will conduct Mahler's Sixth Symphony. That's pretty special in and of itself, because not only is he one of the world's greatest Mahler interpreters, but he also won a Grammy Award for his recording of this work with the San Francisco Symphony. And the City of Miami Beach's SoundScape Cinema Series will showcase four films, providing something for everyone: Inception on April 6, Moulin Rouge on April 13, Big on April 20 and Fantasia on April 27.

Anything else we need to know about the coolest month before we go-go? My advice is to just relax and find something to enjoy. January - March happens at the speed of light here, but now we can begin to take a breath, contemplate what just happened, and even look ahead to the summer. Find a concert or a film to enjoy here at New World Center, and come be inspired.

New World Center is located at 500 17th Street Miami Beach For more information on April's events log on here.