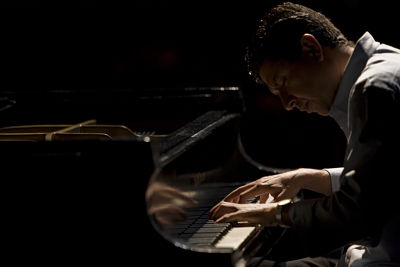 It's been over a dozen years since Silvano Monasterios was voted "New Artist of the Year" at the Hennessey Cognac Jazz Search in New York City. Since then the Caracas-born pianist/composer has played with the likes of Randy Brecker and Donald Byrd, as well as David Lee Roth and Shaikra. Tonight the piano man will be with his quintet at The Bass Museum, so Niteside decided to shake him down for a lowdown.

First off, for those who don't yet know, who's Silvano Monasterios? A Venezuelan Jazz pianist and composer who has been a proud Miami resident for more than 20 years.

And who are the Fourth World Ensemble? An ensemble of accomplished musicians from Australia, Costa Rica, Venezuela and the USA.

You (and they) are at The Bass tonight, wanna tell us about it? (We are) very excited to perform at this important landmark of our city for the first time, presenting my brand new recording on the prestigious label Savant Records.

How'd this all come about? It all came about thanks to the initiative of the Bass Museum and KCC Productions.

Have you other dates on the near horizon? We will be launching our new recording in New York in September with some live performances as well.

Anything else we need to know about Silvano Monasterios before we go go? Just that I'm someone who is grateful to the universe for being allowed to do what he loves, in a place that he loves.
Silvano Monasterios and the Fourth World Ensemble Friday July 29 7-9 pm at The Bass Museum 2100 Collins Avenue Miami Beach. For more information log on here.