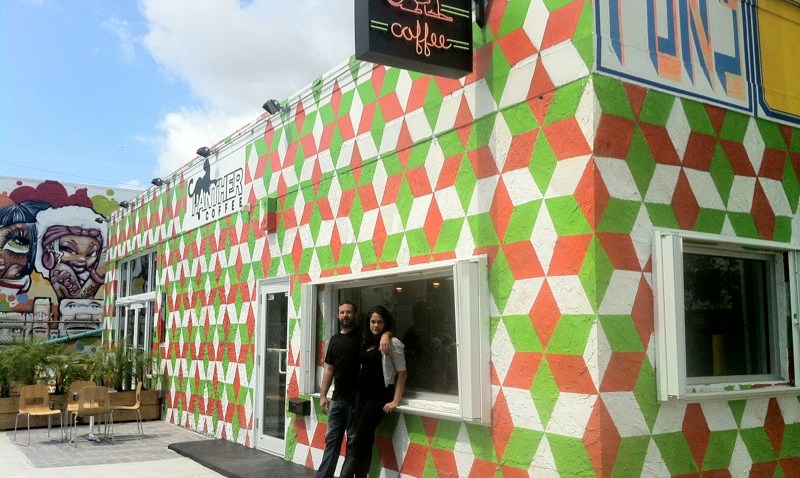 Just because we're in between Second Saturdays doesn't mean there's no reason to swing through Wynwood. Often it's those in-between times that can be the most rewarding anyway. Whenever you're in Wynwood though, make sure you pop in to Panther Coffee, which is fast becoming the 'hood's de facto hub, just as we thought it would way back during the madness of Basel. Niteside got the lowdown from co-owner Leticia Pollock, who with her husband Joel is Panther Coffee.

What's the big idea behind Panther Coffee? Panther Coffee is a quality focused small coffee roasting company and coffee bar located in Wynwood. We came here after living in Portland, Oregon, where we were in the specialty coffee "scene." Joel started roasting coffee in 1990 and has been doing so professionally ever since. I'm a professional barista trainer who was working in Sao Paulo previous to Portland. We roast in small batches on a vintage 1927 Probat coffee roaster and source top quality coffee directly from small producers.

Don't you source from all over the world? Yes, we work a small network of quality-driven coffee producers as partners toward the same end, which is to execute great coffee. Cupping (tasting) the coffee many times previous to export to insure quality is key. We start with a short list of our friends and colleagues we've accumulated over the years and are excited to grow the family. Right now we're talking about Brazil, Honduras, El Salvador, Nicaragua and Rwanda.

Must make for some mighty fun far-flung friends, no? It sure does. And our opening, which was during Art Basel, had them coming out of the woodwork from every corner of the world. We met a lot of great new people people too, and we continue to network with them both locally and globally.

Speaking of Basel, Panther seemed to be at the center of a bangin' block party just about every single night, then -- whoosh, you kinda went away. What happened? Initial response was amazing, with live music and people everywhere all during Basel. We were excited to keep it going, but there were a couple of unforeseen delays... needless to say we're now fully open and people are still looking for great coffee and a nice space to hang out in Wynwood.

Now that you're fully back in action, what's on tap? Absolutely fresh coffee beverages made with unique brewing methods seven days a week. Currently we're open Monday - Saturday, from 8 to 7, and Sunday from 9 to 5, except on Second Saturdays of course, when we don't close till around midnight. On Sunday the 31st we're having a free coffee cupping, and next month, on Saturday August 13th, we'll have a coffee tasting with the producers of the well-loved (and Rainforest Alliance Certified) Finca Las Delicias from El Salvador. You can RSVP for both on our website.

Will you be re-launching the art and the music too? Yes! Starting in September, in cooperation with the gang from Awarehouse, we plan to do a series of live shows -- right in time for cooler nights. We'll also continue to have a rotating series of art on the walls. Through July and August we've got Butter Gallery's Yuri Tuma; our September/October show will be a mind-blowing surprise... just wait!

Panther Coffee is located at 2390 NW 2nd Avenue Wynwood. For more information call (305) 677-3952 or log on here.