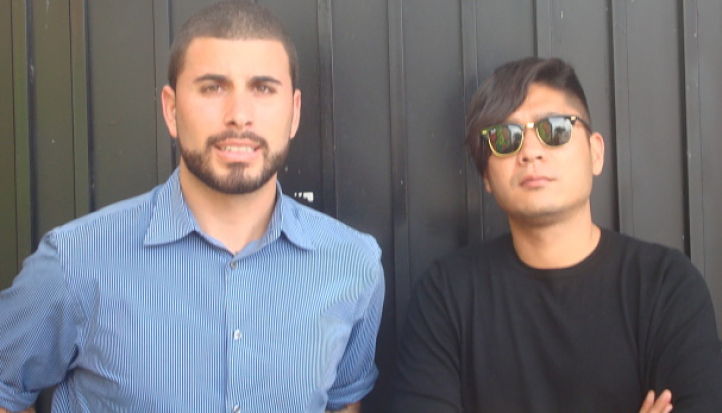 You know 'em from the street, where they've curated the bulk of Miami's murals. You know 'em from their spot, which shows some of the best and the brightest art the world has to offer. And you know 'em from their rep, which is unmitigated and unparalleled, from here to everywhere. They are the collective known as Primary Flight, whose Primary Projects are about to salon for the summer. Niteside caught principals Chris Oh and Typoe at Wynwood Kitchen and Bar and got 'em to explain.

What's the what this Saturday? The show, Salon de Notre Société, consists of some 400 works, from about 50 different artists. It's a nod to the Parisian salons that existed between the 17th and 19th centuries. We being who we are though, the show's particularly aligned with the Salons des Refuses, that is, those who were a little too badass for the traditional salons of the day.

Are all the artists from the MIA? Most of 'em are, yes. But we've also got works from NY, L.A., Tel Aviv, Perth – even Tampa.

Isn't there also some kinda follow-up happening? Yes, on Monday at Soho House we're hosting Société de Nos Artistes, which will be a mingling of artists à la the salons of old.

Why Soho House? The last event we held there went incredibly well, and both Lilaj and Laurent were receptive and eager to have us back. It really is a great place to get away without having to sacrifice what makes Miami tick.

Didn't PF also do some of the interior? I (Chris Oh) designed Ocho, the taco house on the 8th floor.

Any other PF news you wanna share before we go-go? Yes, me (Chris Oh), Typoe and [Primary Studios' chief designer] Raquel Raney just completed a mural in Greensboro, North Carolina, as part of The Greenway Project. Stephanie Sherman from Elsewhere got a call from Action Greensboro and was good enough to nominate us. And we also recently brought El Mac down to the Havana Biennial for a mural project. It was everything we'd expected – and then some.

Salon de Notre Société opens Saturday, June 9 at Primary Projects 4141 NE Second Avenue in the Design District. For more information log on here.