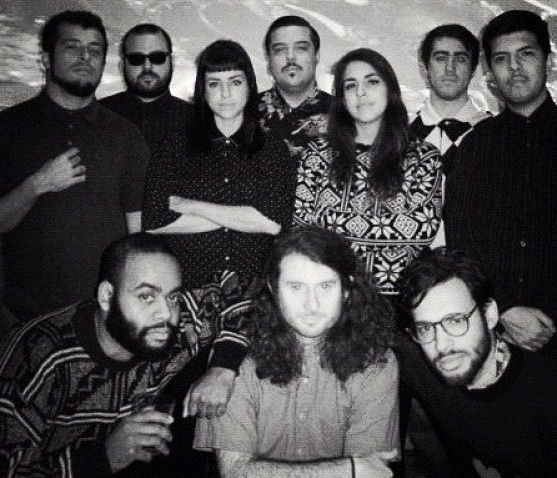 If The Polyphonic Spree sprang from the MIA rather than Dallas and been raised by Bass Heads instead of Baptist Holy Rollers, they'd likely make a racket much like that racket made by Psychic Mirrors. Yet where those white-robed Texans merely reach for the heavens; these kaleidoscopic Floridians grab at whole new galaxies, and they never ever forget that real beatitude begins with the beat. Indeed the mad mob of Miamians known as Psychic Mirrors ain't just Polyphonic funkified or some fun-in-the-sun Spree. No, this merry band of wow-siders is what tomorrow promises to sound like, which is undoubtedly why Benton G is bringin' em into The Electric Pickle for NYE. Niteside got two of the 10 to sit down at Gramps and help us get jump-started on 2013.
Just what the hell is Psychic Mirrors? Psychic Mirrors is pretty much a neo-funk boogie band that is adding a new sound to Miami's soundtrack.
Okay, just who is Psychic Mirrors? There are 10 of us in all, but it's really frontman Mickey de Grand IV's creation. The others are us, Cecilia de Cardenas and Gyr, Ryan Haft, David Gonzalez, Kiernan Smith, Ileana de Cardenas, Colin Smith, Eric Hernandez and Alex Batlle.
You're all born and bred right here in the MIA? We are indeed. Every single one of us.
Is there any product out there fans can get their hands on? There sure is: "Come for Your Love" and "Mystic Hustle" are available in various forms from Cosmic Chronic.
What's the what for NYE? The what is Benton G and Eclectic Electric have us booked with our Cosmic Chronic labelmates Miami Player's Club to take over The Bolero Room.
If those are the facts, then what figures? What figures is we're kickin' off our set right at the stroke of midnight, which means Psychic Mirrors will be the first thing you experience in 2013 -- so get set for a funkified, booty-clapping, chronic-dripping, neon-soaked kiss to your goodbye. Got that?
Oh, we got it alright. Good.
The Electric Pickle and Eclectic Electric Present Psychic Mirrors and Miami Players Club en vivo en El Bolero Room. New Year's Eve 2012. Advance tickets available here.