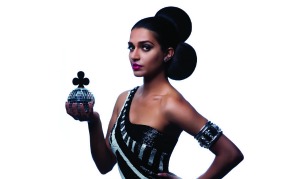 A decade ago she and iiO roared around the world with a steamy sing-song called "Rapture." Since '05 though, the Queens-raised, Libyan-born, Pakistani-American songstress has been solo, backed by everyone from BT to Avicii, and racking an unparalleled series of kickass dance tracks, each more massive than the last. She is Grammy-nominated Nadia Ali, the undisputed Queen of Clubs, and she sweeps into Mokai this Wednesday night.

How'd Nadia Ali come to be the Queen of Clubs? I suppose the title comes after years of working with DJ/Producer royalty such as Armin van Buuren and Sander van Doorn, in addition to being remixed by the likes of Deep Dish, Avicii and Kaskade. I'm also grateful that so much of my newer music has been supported by Tiesto, David Guetta and Swedish House Mafia, which has helped expose me to an increasingly wider audience.

Speaking of DJs, how'd you and Armin van Buuren first connect? We met at one of his NYC gigs back in '04 and we discovered we were mutual fans of each others' music. After I went in solo in '05, we recorded "Who is Watching."

What was it like to be a part of this year's "Armin Only" blowout? It's been one of the best experiences I've had in my entire career. Armin and his team are so professional and pleasant to work with that it really helped me grow as a live performer.

You were also recently featured on Sander van Doorn's Eleve11 -- how'd that all come about? I met Sander in Beirut for a gig we were doing together. He was super friendly. A few months later his management sent me a track he'd made with Sidney Samson. I loved the instrumental, so I submitted a demo of me singing my words to it. That's how "Rolling the Dice" was born.

For "Pressure" you're among a whole new team -- wanna tell us a bit about it? Sure. I met Nick aka Starkillers back in '09 when I needed a remix for my single "Love Story." We talked about also getting into the studio together, and that Christmas Eve we went in and recorded a bunch of songs over two days; one them was "Pressure." It was just meant to be a fun song venting about the frustrations and expectations which come with being successful, and we just left it at that. A few months later, at Winter Music Conference, I introduced Nick to Alex Kenji, and Nick casually suggested Alex collaborate with us on the track.

Aren't there a couple more remixes slated to rack in the UK later this month? Yes! There is a massive dubstep remix by Zomboy that already has a million YouTube views -- and it only debuted two weeks ago! There's also a fresh sounding house remix by Tim Mason which very cool. Both will officially be available on November 21.

Which version can dance fans expect to hear at Mokai on Wednesday night? That will have to be a surprise! But folks will definitely hear their favorite tracks and remixes.

What other goodies to you have planned for Miami? I'll have two great dancers with me, and together we put on a fun show that really hypes the crowd.

Nadia Ali performs at Mokai on Wednesday November 9. For more information log on here.