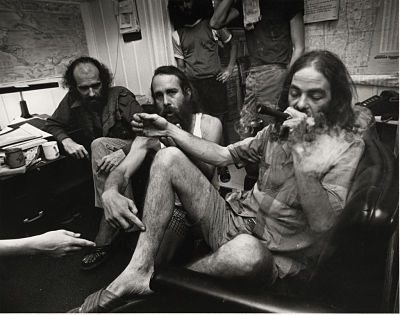 Even those who live under a rock (ha ha) know about Rakontur, the Miami-based indie kingpins behind such kickass flicks as Raw Deal, Cocaine Cowboys and The U. Now the cats are back with yet another troll through Florida's sordid waters, and this time it's called Square Grouper. Since everybody and their godmother will be hitting tonight's screening at The Colony, Niteside decided to get with Alfred Spellman, who with Billy Corben is Rakontur.

What is a square grouper? A square grouper was a slang term known to Floridians in the '70s and '80s for a floating bale of pot. Often times planes or boats that were being chased [by law enforcement] would abandon their cargo, and fishermen would catch floating bales or they would wash up on shore.

Can you give us a quick bit about the same-named flick? Square Grouper chronicles three stories from the era when pot smuggling was the major illegal enterprise in South Florida. Before the Cocaine Cowboys invaded in the '80s.

Who are some of the more notorious players featured? Robert Platshorn, the longest serving nonviolent marijuana prisoner in the history of the U.S. (he did 29 years in prison for pot smuggling). Also Brother Louv and the notorious Ethiopian Zion Coptic Church, whose HQ on Star Island drew national attention when they claimed ganja was their sacrament. And the small town of Everglades City, where practically every adult male was involved in the pot smuggling trade.

Any of them still around? A few of the Coptics are; Robert Platshorn is out of prison and touring the country speaking out about medical marijuana; and many Everglades City smugglers have returned to the small town after serving time in prison.

Square Grouper had its world premiere at SXSW, how'd that come off? It was great to finally check out a festival I'd been hearing about for so long. Austin is a great little city and the SXSW launch kicked off a national film festival and college campus screening tour.

Where else has it screened so far? We've been all over the place: Denver for the High Times Medical Cannabis Cup, New York, Philadelphia, Cleveland, Phoenix, Madison, Wisconsin, Jackson, Mississippi (!), Orlando, Tampa, Sarasota, Durham for the Full Frame Festival.

Word is the doc got picked up my a rather prestigious studio, wanna fill us in? We're back in business with our friends at Magnolia Pictures, who also handled Cocaine Cowboys for us. They'll also be handling a few of our other releases later this year.

Rumor also has it that DJ Le Spam marshaled an army to swing the soundtrack -- that so? DJ Le Spam did an awesome job capturing the vibe of '70s Miami -- sort of a folk, country rock, swampy Florida sound. Billy [Corben] wrote two songs, including the title track. The soundtrack is now out on iTunes.
Square Grouper screens Wednesday April 20, 7:30 p.m. at The Colony 1040 Lincoln Road Miami Beach. For more information visit Rakontur.