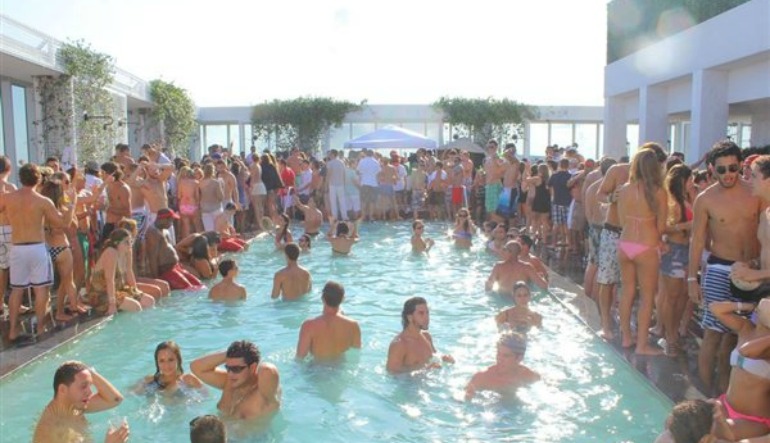 There's nothing like a pool party to add a little punch to a weekend; when that pool party goes down high in the sky, well, you're pretty much guaranteed a knockout. Perhaps that's why Club 50's Get Wet Get Wild is such a kickass bash. Then again, it could simply be the cats from Red Rabbit Presents know how to throw a kickass party. Red Rabbit co-chief Shane Vernon chats up the action.

What's the story behind Get Wet Get Wild? Get Wet Get Wild is a pool party that originated one year ago in the backyard of a friend's mansion on Key Biscayne. Red Rabbit was only a month old at the time, and we decided to do a house party for (Co-CEO) Erick (Passo)'s birthday. It turned into 400-500 person blowout that really launched our company to the where we are now. From that pool party we got linked up with Club 50 and their GM Brandon Krease, who gave us a shot to bring the Get Wet Get Wild brand to their venue. Including Saturday, we've gone on to do five installments of of Get Wet Get Wild, all of which have been massive successes.

What makes it more than just a kickass pool party? I think there are a lot of factors that make GWGW so special. First, your fifty floors up in the sky with full panoramic views of the entire city. You're also looking at a pool deck with a much smaller capacity than a lot of the hotel pools on South Beach, and that actually plays in our favor. The intimacy of the venue provides for a one of a kind energy that I haven't found anywhere else. Last, the music. We pride ourselves in putting together lineups of the best electronic DJs in Miami, and we let them play with no restrictions. This isn't South Beach, we don't tell our DJs how they have to play. They are given complete freedom to show who they are. Mix all these factors together and you have the success of GWGW.

What else has Red Rabbit pulled out of its hat? We've done events all over the city since we've started Red Rabbit. We never wanted to get comfortable in one place to long, never loved doing weekly parties, we like to bounce around. Our slogan has always been "Follow the Red Rabbit." Our one weekly party is Super Fridays at Mansion; which is absolutely insane. We do a lot of work at Grand Central. That's where we held our Launch Party, as well as our One Year anniversary party, both of which were absolutely amazing. We've done parties at Louis, Mokai, The Bank, SET, here, there, you can find us everywhere.

What's happening at the next GWGW? We are really excited to have GTA headlining the show, along with our Red Rabbit DJs Mike Russ and Gino G. Saturday was an absolute success, and with Spring Break starting next week, we are counting down the days. It's going to be massive.

For more information about all Red Rabbit action log on here.