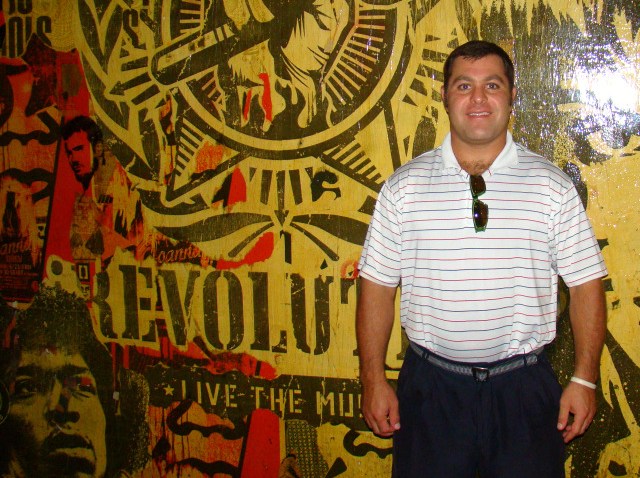 For the past six years, Miamians looking to catch a rad act have crossed the county line to Lauderdale's Revolution Live. It's a pitch-perfect venue, with some of the best sight lines in South Florida, and it provides the kind of intimacy rock, rap, indie and soul fans would undoubtedly demand if they had a choice. Jeff John runs the joint, and he owns it too. And concert behemoth Live Nation is its exclusive provider. Tonight John unveils the adjacent Green Room, and gives us all another good reason to cross that county line.

For the few folks who don't yet know. What's Revolution all about? Revolution is a 15,000-square-foot facility that was built in 1924. The stage is elevated about eight feet and there is a sunken in "pit" dance floor that creates a three-story feel in an old two-story structure. The second floor balcony wraps around the whole room so you can actually watch the show from behind the stage. Sight lines are unblocked and the sound is awesome! In other words, it's the perfect place to see some of the best live music ever.

What are some of the most kickass concerts you've had over the years? Chris Cornell, Social Distortion, Tribe Called Quest, Lady Gaga, Modest Mouse, Katy Perry, Deadmau5, Rancid and NOFX, to name but a very few.

Speaking of kickass concerts, don't you have something very special coming up next Tuesday? Yep, Tuesday the 20th we've got Smashing Pumpkins -- it will be sick inside our venue. We're really excited to have them. They are doing 12 dates at small venues before they head to Japan for festival dates. I've always been a huge fan, especially being from Chicago.

Is there anyone else coming up in the near future you're especially excited to see? Public Enemy will be great (Sept. 17), so will Cinderella (Aug. 7) and The Glitch Mob (Aug. 30), who are really blowing up.

In addition to Revolution, you run an adjacent joint called America's Backyard. What goes on there? America's Backyard is a huge interactive outdoor party. All the bars are themed differently and carry their own identity (i.e main bar is called Pool Bar and it's shaped like a big kidney shaped pool). At the pool bar, you can see staff and customers hula-hooping and dancing on the bar; you can even see people getting crazy in the showers at 2 in the morning.

Word is you're now adding a third venture; in fact it opens tonight. Can you fill us in on the details? Green Room is the last piece of the puzzle. It is a 4,500 square-foot room that finishes off the property. We will be doing a Friday night house night and a Saturday night fun old school night. It will also work in conjunction with Revolution Live doing certain DJ events, festivals, etc.

What made you decide to branch out again? We have always wanted the room. It's a critical part of the property and it allows us to do larger and more diverse events.

Are there any plans to open up one of the above in any other cities? Yes, we do have plans to open up in other cities, and Ft. Lauderdale will be both our home and training facility. But, we're still looking for just the right city and space.

When you're not running one of three venues, where do you most dig hanging out? When not working, usually on the golf course, but I do like a good dinner. For that I go to Michael's Genuine in the Design District. I always like going to a good show too, so you will usually find me there.

Aside from Green Room, what's coming up for Jeff John? Just looking for ways to create new business, especially in this tough economy, though I am also looking forward to winter ski season!