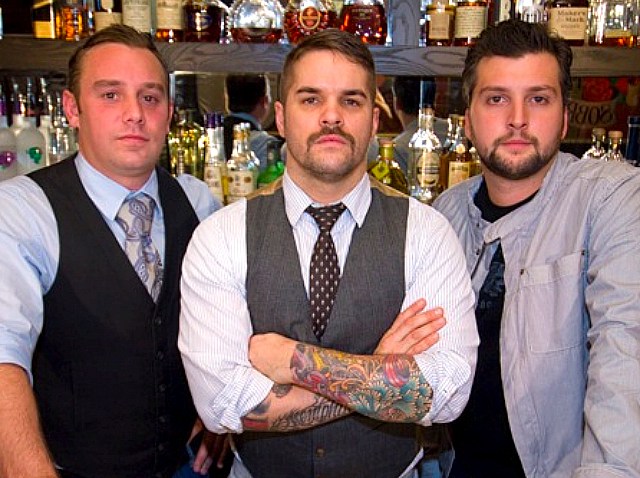 If the W can be said to epitomize the swing of South Beach, then the hotel's Living Room has surely become the barometer by which hip is measured. Much of the signature lounge's cachet is due to the keen cool efforts of ace mixologist Richie Petronzi, who has concocted cocktails for some of the best and the brightest in the galaxy. Petronzi spent seven years at The Shore Club's Skybar prior to making his way to the W. And it is here where he has truly found a home.

You're behind the stick at the Living Room in the W South Beach. What's it like tending to the spirited needs of some of the world's swingingest people? Tending the ultra sheik crowd in Miami is tough. Even though we work in a super high-end bar with all the fixin's does not necessarily mean everyone wants that. At the end of the day, it's all about feeling out the guest and catering to their personal needs.

Speaking of the swingingest, can you give us a sample of some of the bold-faced names that have hit your bar and what their preference is? Dan Akroyd: anything to drink. ... Not very picky. Steve O: shot of jack accompanied by a slap in the face!

Speaking of preferences, if I sidle up to the bar and ask for a cocktail suggestion involving vodka what might you recommend? Vodka is easy. I would reply, 'What types of flavors do you like?' At the end of the day a vodka cocktail will taste like whatever you mix it with.

What about rum? Rum is our specialty! It's Miami. The Caribbean -- hello! First, it's all about what type of rum. A fresh sugar cane rum, like Cachaca or Rhum Agricole, or a more heavy molasses-based rum. Once we get there the sky is the limit. Mojitos seem to be the drink of choice, but persuading someone into a nice rum old-fashioned is always nice.

And whiskey? Whiskey may be one of my favorites because so many people are scared of it. That's when you say, 'Just trust me.' And then you make them a fresh berry whiskey smash that they fall head over heels for.

What seems to be the cocktail of choice among South Beach swells anyway? When in Rome or should I say Miami people slurp down copious amounts of Mojitos. As much as a bartender does not like to make them, we serve up the best in the world in any form. Try one you'll like it.

Have you seen more and more people getting adventurous with what they order from the bar? People are definitely coming around when it comes trying new things. I have created a cocktail called Cantonis at W, which is very booze forward. Meaning it packs a hell of a punch. And a sweet young lady comes to the bar every week to order pitchers full to make her friends try. They love them and it's not your typical cocktail. Full of ginger liqueur and Japanese whiskey. Plus everyone at our bar trusts us and just says make me whatever you want. It's a nice freedom to get them off the norm and into the now.

To serve the new cocktail culture, Adam DelGuidice, Christian Sanders and you are behind a beverage-consulting firm called Bitter Sweet. Want to tell us a little about that action? Bitter Sweet is a full service beverage consulting biz covering all things liquid. I work with two of the most talented bartenders in the country to preach the gospel of the fine art of mixing drinks and educating people about all sprits and their role in the history of the cocktail.

Tonight you're one of two featured mixologists for an event called Soul Shakedown. Can you give us the details please? The event is being held at Living Room at the W. It's a collaboration of four consulting companies -- Contemporary Cocktails, Bitter Sweet, Bar Lab, and Alembiq -- and it's sponsored by Appleton. We are showcasing our versatility to work with rum as a spirit and creating cocktails ranging from the classic to the contemporary. Showing people how to drink in high society, high fashioned and highball glasses!

When you're not behind the stick at The W, where do you most like to hang out? Personal hang outs are Clarke's Irish Gastro Pub, The Florida Room, The Beer Garden on Lincoln and my old stomping grounds, Skybar.

What's coming up for Richie Petronzi? Full-steam ahead. Keep Bitter Sweet on a fast track for success to eventually open the dream venue of high-end, high-paced, fresh ingredient cocktail lounge with a party atmosphere like no other. For all to enjoy!