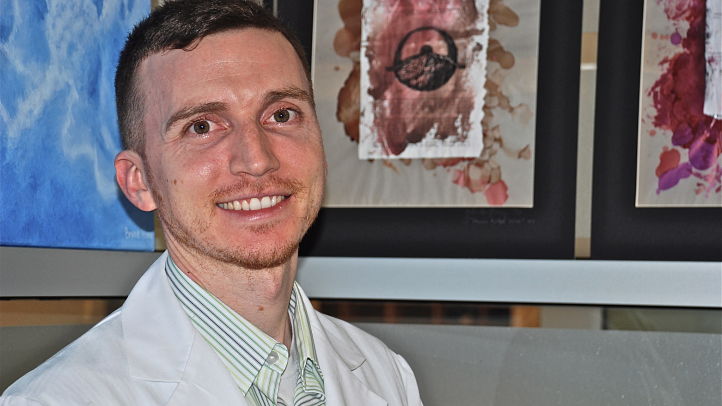 There seems to be no end to the benefits our community gets from FIU's Herbert Wertheim College of Medicine. Not only does South Florida's sole public medical school offer determined doctors-to-be the opportunity to receive a world-class education, regardless of their station; it also provides first-class treatment for some of Miami's most underserved neighborhoods. This Saturday, in conjunction with the ever-benevolent Green Family Foundation, the civic-minded school swings into sibling Frost Art Museum for the inaugural mammography aRt initiative. Project founder (and grade A student) Robert Guido gives us the greater good.
Would you please tell us the basic premise behind the mammography aRt initiative? The initiative is basically a combination art show/fundraiser that aims to initially raise enough money to provide mammograms for 80 women who are enrolled in The Green Family Foundation's NeighborhoodHELP program. The theme is "Radiology meets Art," and in a way it springs from my time as president of the Radiology Group at FIU's College of Medicine. I thought it would be a great idea to hold a benefit art show that fuses radiological images with traditional art.
How does NeighborhoodHELP fit into the picture? NeighborhoodHELP (Health Education Learning Program) is the component of the College of Medicine curriculum that brings students into some of Miami's most underserved communities, where we gain valuable hands-on experience. After the show, NHELP will coordinate a series of mammogram screenings for women age 40 and up (my aunt was diagnosed at 69!). We will also be holding a breast health educational workshop on the day of the mammograms, and we welcome the women who attend to bring their friends.
Who all is involved with the initiative? Besides Green Family Foundation President Kimberly Green, who'll be speaking at the event, there are 21 med students integral to the project, among them Natalia Echeverri (who's heading the art show part of the equation), and LeAnn Sagmeister (who organized the program, speakers and entertainment for the event). Grant Schwartz heads our community outreach arm, and Stephen Ferraresi is handling donations, in addition to the liaising with local doctors.
How many artists will be contributing works to the event? We have 18 professional and amateur artists, arts students, and breast cancer survivors, who will display images that portray either a personal encounter with breast cancer or support breast cancer awareness using images from CT scans, X-rays, MRI's and ultrasounds. Of the featured artists, Pedro Jermaine comes from Live Oak, Florida, and both Gamaliel Herrera and Alex Mijares are based in Miami. Herrera is also a radiologist, and Mijares is one of Wynwood's signature talents. Of the other 15, Gabriela Perez, Bruce Hing and Edwive Seme placed 1st, 2nd and 3rd in the student art show contest.
Do you see the mammography aRt initiative become an annual affair? Yes, we already have a team of first-year medical students to carry on the project that the current second-year students began.
The mammography aRt initiative takes place Saturday, Sept. 29 from 1 to 4 p.m. at the Frost Art Museum at Florida International University. For more information log on here.