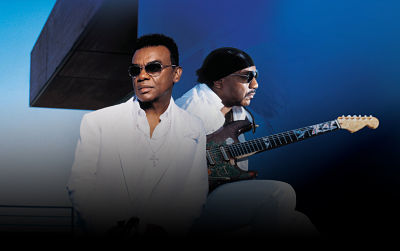 This weekend marks the 6th Annual Jazz in the Gardens. Among the line-up, which includes everyone from Ms. Lauryn Hill and Heads of State (with Bobby Brown), is the legendary Isley Brothers, whose hits include "It's Your Thing," "(Who's) That Lady" and, more recently, "Contagious," featuring R. Kelly. Niteside had a chance to get with Ron Isley before he and his bros hit the MIA, and we got him to give it up about working with Aretha Franklin on the Grammy-nominated "You've Got a Friend."
Was this your first time working with the Queen of Soul? Yes, it was. But we did another song for her own album that's gonna come out, too.
What song is that? "The Way We Were."
That's fantastic. How did you two decide to do "You've Got a Friend"? Well, we knew we were gonna do a song together and we've been friends for forty-something years, so that seemed like a natural.
So you go all the way back to the days of Motown? Yeah [laughs].
Did you stay in touch over the years? We talk to each other two or three times a week.
Aretha has to be one of the coolest people in the whole wide world. She is. She truly is.
Who else have you done duets with? Hmmm, let me see: Rod Stewart ["This Old Heart of Mine (Is Weak for You)" ], R. Kelly ["Contagious"], Warren G ["Smokin' me Out"] and Tupac ["Po Nigga Blues"].
Pretty impressive. Anyone else you've been working with lately? I did with few songs with Tricky on my last album [Mr. I].
Keeping up with the new jacks, huh? That's right!
Jazz in the Gardens takes place Saturday, March 19, and Sunday, March 20 @ Sun Life Stadium, 2269 Dan Marino Blvd., Miami Gardens. The show starts at 4 p.m. each day. For more information visit Jazz in the Gardens.