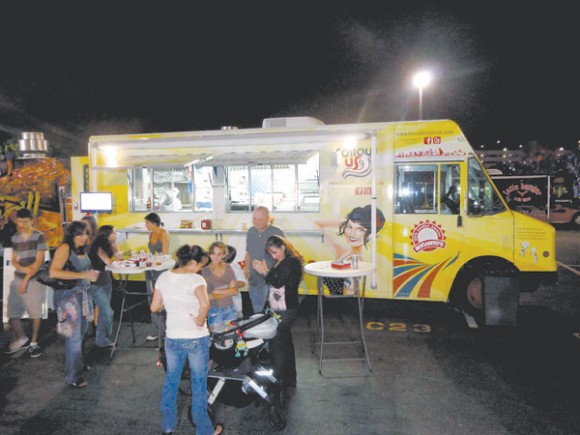 Earth Day may have officially come and gone, but it's a cinch the billion-plus people from those 192 countries who celebrated the occasion didn't just flick off the switch at midnight. In fact, the smart folks now mark Earth Day all year long. Case in point: Sundays on the Green, which of course is held in the Armory-adjacent space known as Wynwood Green. Each and every month there's a lively line-up of eco-cool content, including such fare as the ever-delicious and supremely organic Bocaditos Truck, which has been in on the Earth-friendly action from the get. Niteside asked Bocaditos' own Ryan Echaus to fill us in.

For those who don't yet know, what's behind Bocadito's? Our ingredients is what makes Bocaditos... The idea that you don't have to compromise quality to achieve taste for convenience or profit. Cooking with the finest humanely raised meats, organic cheeses and a mix of organic and choice produce, we've created the most amazing, animal-friendly and environmentally sustainable micro/sandwiches you could ever put in your mouth!

How long have you been trucking 'round Miami? We have been operating since October 2011.

Have you any regular spots? I have parked outside Wood Tavern every weekend up until the last. I made an agreement with Cesar way back that Ill stay until he starts serving up his own food... That day has cometh, so I have backed down from Wood as a man of my word.

That wasn't your only Wynwood spot, was it? I have been lucky enough to of been able to serve food outside O Cinema, Kawaii Universe and next to Panther Coffee. I also have been fortunate enough to of been part of Wynwood Green, every last Sunday of the month.

Have you been in on Wynwood Green from the get? Yep. Since day one.

What makes it such a swell place to be anyway? The people there get it. I find myself explaining less about what organic and humane means, and cooking more. I love the fact that every month the event evolves with regard to what is actually happening there. From eco seminars to graffiti bike tours, you never know what's going down at Wynwood Green

Anything else we need to know about BT before you go-go? If you want to visit my truck and get a taste of the yummy, you won't find me at the truck roundups or "events". Make a trip out to Wynwood or check out my schedule posted on my website at bocaditostruck.com for locations and other info.

Bocadito's Truck will be at Wynwood Green Sunday April 29th. For more information log on here and here.