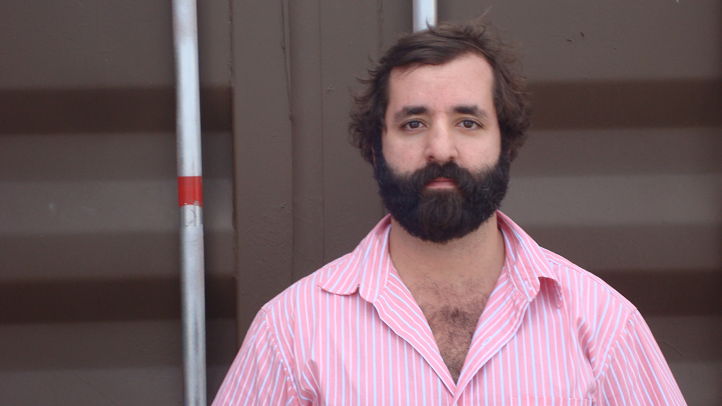 Making the scene generally means either being there, or creating a there to be; in Miami though, the phrase tends to mean both simultaneously. That seems to be the case with regards to our music and art scene anyway, which is increasingly blurring the distinction between creator and appreciator. Perhaps no other scenemaker knows this better than Dean Taha, whose action ranges from a band of young guns (Krisp) to a quarter-century old institution (The Rhythm Foundation), and includes a collective (Ground-Up), an art studio (GAB), and an activist group (Biscayne Bay Waterkeeper). To ensure the whole wild world turns on to the growing phenomenon, Taha and a few other fine friends have founded Gummdrops, which is launching on the very same day Krisp celebrates its Sweat-backed Sutro 7" at Churchill's on a bill with Deaf Poets and Cog Nomen. Confused yet? Make the scene this Friday night and it'll all come clear.
What's the latest with Krisp? Krisp will be performing at Churchill's Friday to celebrate the release of their Sutro 7" "Will You Tell Me" b/w "Captain Hook". Sutro is of course the in-house label Sweat Records launched last summer with the Deaf Poets' "This Pain" 7". Actually, Deaf Poets are on the bill too; so is Cog Nomen, which makes it a kind of de facto family affair.
Will this be Krisp's first time waxing vinyl? It will. It's also Krisp's first time working with Jaime Adrovar, whose "Scorpion Prince" is the painting we chose for the cover art. His work is amazing, and this piece not only compliments the music, it helps make the whole thing instantly collectible. The edition's limited to 400 copies though; 100 of them on opaque lavender wax, so they're gonna go fast!
This all ties in with the Friday launch of Gummdrops, right? Right. Gummdrops is designed not only to serve as a platform for musicians, artists and activists, but to also shine a light on what we consider the best Miami has to offer the world. So it seemed only natural for us to launch on the same day many of those intended figures would be gathered together to celebrate another Miami milestone.
Who all is in on that Gummdrops action? Miamixiti is handling the tech, Krista Merrill is doing likewise with design, and Jolt Radio is behind the site's sound.
Why did you decide to enter the site racket? This extended scene of ours is getting bigger by the minute, and it's only a matter of time before it explodes to global proportion. We want to ensure that the growth -- and the rise -- is thoroughly captured and chronicled, both so the world gets to see what's goin' on in Miami, and so that those who've got it goin' on are given their due.
Isn't there also a sense that more is making for closer? Definitely. For instance I manage Krisp; and I'm on the boards of both The Rhythm Foundation and Biscayne Bay Waterkeeper, which is aligned with the activist-oriented Swim Drink Fish Music, where Krisp and others can be heard. Then some of us are among the dozen or so members of Ground-Up Collective, which also includes videographer Leandro O'Brien (a Gummdrops contributor who'll be chronicling Friday's show) and designer Maria Thereza Ayala (who runs the namesake boutique). That shop is located in GAB Studio, where Krisp often performs, Ground-Up artists often show, and whose owner, Bridges Aderhold, introduced me to the band to begin with.
That's not all of it either, but multiply my circle by who knows how many other entwined circles and the sum becomes the cultural equivalent of a Spirograph. It's enough to make everybody dizzy!
Is the sum of all that part of the reason The Rhythm Foundation asked you to join their board? Pretty much so, I guess. Though what The Rhythm Foundation has done for me over the 15 years of our association is a large part of the reason my sum even adds up in the first place. And while I did shoot some shows over those years, and I also developed the recycling program for the Heineken Transatlantic Festival, I think the main reason the Foundation asked me to join the board because they know I believe in what it does and I'm all for the cause.
Speaking of shows, doesn't The Rhythm Foundation have something slated this weekend? The do indeed. This Sunday they've got legendary Afrobeat singer Femi Kuti at Grand Central. Last season TRF brought his brother Seun Kuti to The Artime Theater, and it was terrific. I'm sure the eldest Kuti son will be equally sensational.
Any last words before we let you go? Just that. Go. Go out. As often as you can; to as many places as possible. See what Miami's got goin' on. It's a win-win, for everyone.