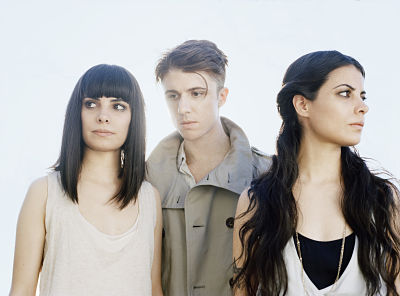 They take their name from a mysterious school for pick- pockets. Their sound comes from out of this world. They are the trio (including identical twin sisters!) School of Seven Bells and this Saturday night they're bringing their ethereal dance rock to Grand Central.

What's the story of the symbol that graces the cover of Disconnect from Desire? Benjamin: While we were trying to find artwork for the record, we kept running into this problem that whatever image ideas we had with Bryan Collins, who does our artwork, they just seemed too external to the project, and never really seemed to represent the music itself. It was just like we were adding another idea to a concept that was already so tightly wound.

Iconography, and various kinds of symbolism, were things that were coming up in our conversations, and Alley mentioned the concept of a "sigil," which is in itself a system for creating icons, or symbols out of statements or questions you might have. It ended up perfectly, now the symbol IS our record. To me, it represents the music fully, without any outside references at all.

And the title itself? Benjamin: The title itself came from Brian Eno and Peter Schmidt's book of cards called the Oblique Strategies. They're used as some sort of Tarot deck for artists, to get you out of a creative jam, but that's not exactly how we used it. When those words caught our eyes, they really resonated with Alley and I in a huge way. It seemed to make a lot of sense with the music we were writing at the time.

Speaking of songs and stories, "ILU" has been called a "graceful breakup song." Was it in fact written in the wake of heartbreak? Alley: It wasn't written in the wake of heartbreak, it was actually written about something that happened long ago, and it's a bit of an apology, I guess. It's the way I think things should've gone.

How much of the lyrics spring from real life anyway? Alley: All of them. It's the only way I know how to write.

I first heard of the mythical School of the Seven Bells in the movie Harry in Your Pocket. Is that by chance where you found out about it too? Benjamin: We've never seen that movie, I don't think, but I'm interested to see it now. Alley found it on some TV documentary years ago. The memory is hazy at this point.

You're veterans of the long and winding road, is there one city that just keeps getting better and better? Benjamin: It might sound cliché, but the more cities I visit, the more things I discover that I love about New York. I really miss it right now, so I'm a little biased.
Have you played Miami before? Benjamin: We played in Miami once before, years ago at Studio A. Alley is from the Miami area, and we both have a ton of friends there. It feels a little like a homecoming, and we're excited.

What can Miami fans expect on Saturday night? Benjamin: They can expect a lot of energy, and a really loud and visceral approach to our music. It's always a party when we play live.