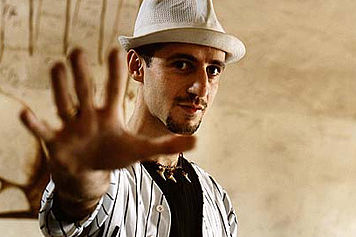 If ever there was a city perfect for the sound of Sergent Garcia, Miami is it. Based in Reggae sound systems and merged with Cuban Salsa, then tricked out with Colombian Cumbia, it's a sound that's as international as South Florida. It's also pretty much irresistible. Hear for yourself this Saturday night at Pax.

For those that don't yet know, who is Sergent Garcia? I'm a French and Spanish musician. I grew up in Paris in a popular neighborhood called Belleville. When I was 15, I was the guitarist with a famous punk band in France, then I began to work with Reggae music, using sound systems as a DJ and singer. At this time (1994) I chose this name "Sergent Garcia" and I began to work upon the fusion of rhythms between Jamaican music and Latin sounds.

Word is your LP, Una y Otra Vez, was composed in Valencia, tracked in Paris and completed in Colombia. Why the continental shift? I actually live in Valencia, so I began to compose this new album after being on tour for the last record, Mascaras (Masks); then I went to Paris to record with my Cuban and French musicians. But this record was also composed to have a peculiar Colombian taste. I arrived for the first time in Colombia six years ago and was really impressed by the art movement in Bogota, and I knew I had to stay there and go out with my personal musical investigations. Colombia is a really interesting musical laboratory where you can find Afro, Latin and Native American music, as well as Reggae and Hip Hop. So, for me it was like being a kid in a candy shop.

Will any of those Colombian musicians be accompanying you on your current U.S. tour? Yes, we have the honor of having with us Jacobo Velez (clarinetista y director de la mojarra electrica). He recorded the clarinets and saxophones on the record.

Una y Otra Vez isn't your first cross cultural experiment, is it? No, I've been working on these crossovers for a long time now. All my records are made with this fusion and crossover spirit between Reggae and Latin music. I have an online radio show, Radio Timbo, and for seven years now we've been promoting the music from the roots and traditional music to Reggae, Hip Hop, Latin beats and Cumbia. I try with my work to bring those old Afro-Caribbean rhythms to the new sounds of today.

Sergent Garcia plays Saturday August 3, 9pm at Pax Miami 337 SW 8th Street Miami. For more information call (305) 640-5847 or log on here.